Second annual Jets WASAC Night and Moose Follow Your Dreams Day feature special edition jerseys
By Krista Sinaisky | January 7, 2020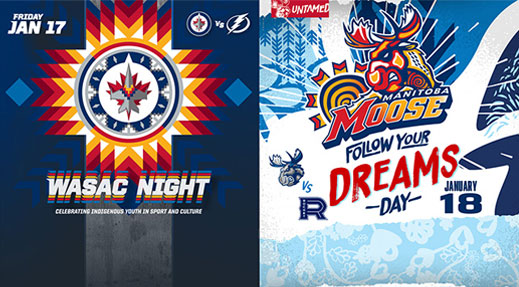 The Winnipeg Jets and Manitoba Moose will host their second annual WASAC (Winnipeg Aboriginal Sport Achievement Centre) Night and Follow Your Dreams Game on Friday, Jan. 17 and Saturday, Jan. 18 as part of the NHL's "This is Hockey" initiative, which promotes diversity and inclusiveness in hockey.
Building on last season's initiative, the 2020 WASAC and Follow Your Dreams games will showcase special edition jerseys featuring the Indigenized logos created by graphic designer Leticia Spence last season. The logos incorporate the artwork and symbolism of several Indigenous cultures, including Spence's own Cree heritage.
The special Winnipeg Jets WASAC logo will be featured on warm-up jerseys that the players will wear during their pre-game skate. The Moose will wear their special Follow Your Dreams logo jerseys for the entire game. Both sets of jerseys will be up for auction at auctions.nhl.com from Thursday, Jan. 23 to Sunday, Feb. 2 with all funds raised going toward WASAC and their efforts to create opportunity for Indigenous youth across the province.
The jerseys will be unveiled with the help of Indigenous youth at a special event on Jan. 10. The event will be livestreamed on JetsTV at https://www.nhl.com/jets/video/t-277437442 beginning at 11 a.m.
On Jan. 17 the Winnipeg Jets will welcome 30 Indigenous youth from remote and northern communities including Shamattawa, Lac Brochet, Pauingassi, Duck Bay and Oxford House to the game vs. the Tampa Bay Lightning. As part of their experience, the students will attend the morning skate at Bell MTS Place and take in a mindful movement session, courtesy of the True North Youth Foundation's Project 11 and the Yoga Barre. The following day the students will have the opportunity to skate with Indigenous hockey role models at Camp Manitou's covered outdoor rink, including Brigette Lacquette, the first First Nations woman to be named to Canada's Women's national hockey team, and NHL alumni Jamie Leach and Frazer McLaren.
The WASAC game itself will feature elements of Indigenous culture during the pre-game ceremony and throughout the game including drumming group Spirit Sands Singers (First Nations), Métis fiddlers and Inuit Throat Singers. The game will mark the first time that O Canada will be sung in Ojibwe at a Winnipeg Jets game. The anthem will be performed by a choir from the Seven Oaks School Division.
On Jan. 18, the Manitoba Moose will welcome more than 200 youth from Indigenous communities throughout Manitoba, including the above-mentioned communities and youth from Winnipeg. Students will take in an exclusive meet and greet with Lacquette and McLaren at Bell MTS Place prior to the 2 p.m. Moose game vs. the Laval Rocket. The game will feature the Canadian national anthem being performed in Cree.
This is Hockey promotes hockey as a sport for everyone and the need to provide a safe and inclusive environment for everyone in the community to both play and enjoy.
To learn more about the development and symbolism of the Winnipeg Jets WASAC and Moose Follow Your Dreams logos, watch this video: https://www.nhl.com/jets/video/c-65615003
To download high resolution files of the Winnipeg Jets WASAC logo and Manitoba Moose Follow Your Dreams logo, visit: https://www.dropbox.com/sh/0lggss0a4nqy70i/AACXiCfMitDaCUYf4ZFPZLzXa?dl=0.
Tickets to WASAC Night and Follow Your Dreams Day are available at WinnipegJets.com/TICKETS and MooseHockey.com/TICKETS.
‹ Main News