Special WASAC Night song aims to set the tone for Indigenous representation
By Jason Friesen | March 31, 2022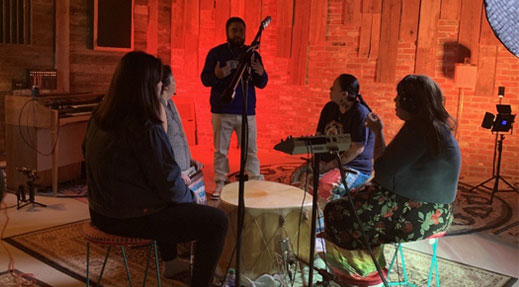 The drumbeat is the sound of gathering for many First Nations cultures. Thanks to Anishinaabe DJ and producer Boogey the Beat, the drumbeat will be the sound of gathering for the Winnipeg Jets' WASAC Night on April 2 as well.
The WASAC (Winnipeg Aboriginal Sport Achievement Centre) Night game and the accompanying Manitoba Moose Follow Your Dreams Day game annually celebrate Indigenous cultures in Manitoba, and one way they'll be doing that this year is by debuting a special song composed by Boogey the Beat prior to puck drop at WASAC Night alongside an on-ice projection presentation.
The drumbeat – which in this song is provided by the all-female Southern Thunderbird Medicine Drum group – is the driving force behind much of Boogey the Beat's music, including the WASAC Night song titled "Bangishimon", an Anishinaabe word translating to "sunset" in reference to the song's efforts to capture the natural beauty of Treaty 1 territory musically.
"A lot of my first experiences with hearing music included percussive elements and the pow wow drum, and walking into a pow wow gathering and seeing everyone dancing, united and coming together to celebrate," said Boogey.
That's exactly the atmosphere he wants to create prior to the game in Canada Life Centre – a place ready to celebrate Indigenous culture and a great hockey game. But the drumbeat and its allusion to pow wows holds an even deeper level of significance.
"Pow wows and assemblies like that are inclusive," added Boogey. "We like to bring in different peoples who are living on this land, and we try to promote that inclusiveness. That's what I try to bring through in my music as well. I take traditional drumming patterns and rhythms and incorporate that into a more modern and electronic feel that a lot of people can relate to – not just Indigenous people, but all music lovers."
On a night when the unifying power of sport will be highlighted, it's Boogey's goal to show how music can do the same.
"Music really transcends race and different cultures. It's something that really brings the energy to a hockey game, and it brings the energy to pretty much everything you do."
Alan Greyeyes – a member of Peguis First Nation, and an artist manager and mentor for many young Indigenous artists including Boogey – couldn't agree more. Having connected Boogey to the Jets and the Southern Thunderbird Medicine Drum group for this project, Greyeyes has long been involved in the music scene in Manitoba. That's perhaps most notable through the sākihiwē festival – a music festival that takes music to divested Winnipeg neighbourhoods so Indigenous and newcomer families can participate in the arts without sacrificing their personal safety, family responsibilities, and ability to make ends meet. Greyeyes knows the power of music and he sees great potential for the special WASAC song.
"Music gives us an opportunity to reach further than the hockey arena. This is a piece that will engage people on social media, and maybe go even further. We might even see it between whistles, not just in Winnipeg, but possibly in other markets, and it might be on national broadcasts. Music is a medium that engages people in almost every part of their lives."
Giving Indigenous artists a chance to shine on this stage is significant to Greyeyes too. Boogey was the perfect producer to mesh the traditional sounds of Indigenous music with modern beats that will connect people of all cultures to the song, but Greyeyes is equally excited to have the Southern Thunderbird Medicine Drum group featured. Seeing an all-female drum group is rare, and including them is another show of inclusion and challenging the norm to him.
"Every stage like this gives us an opportunity to challenge stereotypes and show Canadians that Indigenous people are just as unique and talented as their loved ones," noted Greyeyes. "For me, it's about representation and seeing ourselves represented in the folks who are on stage or on screen. When I was growing up, I really didn't see examples of Indigenous people doing incredible things. Nowadays, a lot has changed, and young folks can see that they can be artists, they can be hockey players, they can be movie stars. They can do incredible things with their lives, which is why it's important for me, on a daily basis, to show young Indigenous people that they can do anything."
Through Greyeyes' mentorship, Boogey has come to realize how important that aspect is, particularly through this process of composing a song for WASAC Night.
"I went into the process hoping that the music would first of all get fans excited about the game," said Boogey. "But the more we went into the studio with the amazing drum group and had conversations with people from the Jets' team, I started to get the bigger picture that this is good to do for the community. We can inspire people and create a song that represents the territory it's played on and that the Jets play on."
Following the song's debut, Boogey and Greyeyes hope the song makes its way to places much further than just the territory the Jets play on. Boogey plans to help that along by putting the song on his new album Cousins set to release in August.
Along with that broader exposure, they hope the song sparks a sense of curiosity in people and an interest to learn more about the song, its roots, and Indigenous cultures.
"Discovery is one of our most powerful tools. Some people may not even know the back story of the song, but they just love and appreciate it, and it becomes an important part of their lives," said Greyeyes. "Then they do the research, and then they discover that this was something that the Jets initiated. That discovery part makes the spirit and intent of what the Jets are doing even more powerful."
For more information on Boogey the Beat and his music, visit boogeythebeat.com and to stay updated on the sākihiwē festival, visit sakihiwe.ca.
To learn more about the Winnipeg Jets WASAC initiative, go to WinnipegJets.com/COMMUNITY/WASAC.
‹ Main News