The Sutton Place Hotel to break ground spring/summer 2018
By TN Staff | August 31, 2017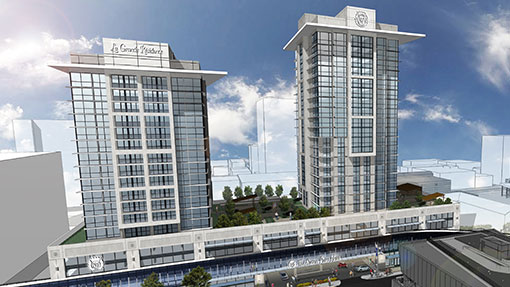 True North Real Estate Development, in conjunction with Northland Properties Corporation of Vancouver, confirmed details of the second phase of the mixed-use development at True North Square today. Northland announced it will break ground on The Sutton Place Hotel and its residential tower in spring/summer 2018, around the same time as the completion and occupancy date for Tower 1 at 242 Hargrave.
With a combined suite count of 418 units, the full-service hotel and residences will be built on the site located at the northwest corner of Carlton Street and St. Mary Avenue. Once construction commences, development is intended to reach completion in 2021. The two Northland towers will complete the cutting-edge vision for True North Square that includes a full-service Sutton Place Hotel, two residential towers, flexible office space, retail shops and services, heated underground parking, direct access to public rapid transit transportation, a LEED Gold work environment, a breathtaking plaza and park, all only steps away from Winnipeg's Bell MTS Place and the RBC Convention Centre.
To view a new 3D rendering video of True North Square and The Sutton Place Hotel, please click HERE.
To download high resolution images and the 3D rendering video, please click HERE.
The Sutton Place Hotel will bring its tradition of luxury to Winnipeg's Sports, Hospitality, and Entertainment District (SHED) with more than 430,000 square-feet of five-star space in two towers that form part of the True North Square development. The 4-storey podium, a 288-room, 18-storey hotel tower, and a 130-suite, 13-storey residential tower will bring stately, refined, old world classic yet modern character that will define the streets' corner profile and complement the design features of True North Square's office and residential towers. The more than 8,000 square-feet of ground floor retail space will be anchored by the feature restaurant, Chop Steakhouse & Bar.
"Northland Properties has always been a great partner and friend," said Jim Ludlow, president of True North Real Estate Development (TNRED). "We are genuinely pleased to introduce the Gaglardi Family, The Sutton Place brand, and its premium amenities and services to Winnipeg as part of our broad vision for True North Square."
"We are thrilled to expand our presence in Winnipeg and partnering with True North is the perfect way to do so," said Tom Gaglardi, president of Northland Properties. "Bringing The Sutton Place Hotel's tradition of luxury to downtown Winnipeg could only be possible with this collaboration."




Construction on True North Square's Carlton and Hargrave towers is progressing on schedule. The buildings are rising at the rate of one floor every eight to 10 days, and the concrete structure is scheduled for top out by mid-November of this year. Installation of the high performance, triple-glazed curved glass curtain wall on Tower 1 (242 Hargrave) is scheduled to begin in September and will be completed by January 2018. True North is on schedule to deliver building occupancy for Tower 1 by June 29, 2018.
The True North Square development represents, in its entirety, the result of a shared vision of the City, Province, and the private sector to achieve a major policy objective in growing the 11-block Sports, Hospitality and Entertainment District (SHED), connecting the attractions in this area and bringing vitality to Winnipeg's downtown. Skywalk integration has been key to the SHED concept and the connection of key downtown attractions like the newly expanded RBC Convention Centre, the buildings of True North Square, and Bell MTS Place will be a catalyst for further re-urbanization of the downtown core.
"True North is proud to be an integral part of the SHED vision and to have had the support of both the Province of Manitoba and the City of Winnipeg as we deliver on a transformative $500 million mixed-use real estate development, anchoring the future of downtown Winnipeg for the next generation of office workers, residents, and sports and entertainment fans," said Ludlow.
More exciting True North Square announcements are on the horizon, including information about a new food hall market, featuring a boutique grocer, that will be the first of its kind in Winnipeg.
To learn more about True North Square please visit www.truenorthsquare.com, our instagram page (www.instagram.com/truenorthsquare), and our facebook page (www.facebook.com/truenorthsquare).
For more information on Northland Properties and The Sutton Place Hotel, please visit www.northland.ca and www.suttonplace.com.
‹ Main News