"The Burt Backyard" to provide a new downtown gathering space, adding to events at Burton Cummings Theatre
By Krista Sinaisky | June 18, 2019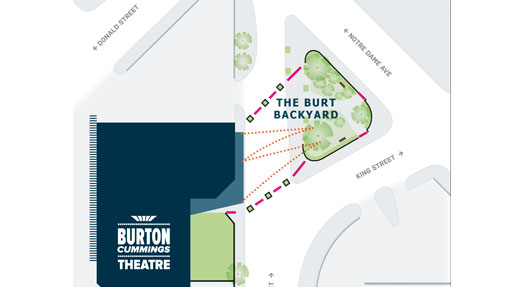 The Burt Backyard launches tonight for the Steel Panther concert
True North Sports + Entertainment will activate a new gathering space across from the Burton Cummings Theatre (BCT) on event days throughout the summer.
With the name inspired by Burton Cummings' 1976 song Your Backyard, "The Burt Backyard" will create a casual neighbourhood gathering space that will bring community and vibrancy to a stretch of Smith Street and to Odeon Park (between Smith and Notre Dame Avenue) on select Burt event days. The licensed activation is an extension of the theatre's existing patio and is open to both ticket holders and the general public to enjoy Winnipeg's long summer days with friends and neighbours in a historic district of Winnipeg's downtown.
The Burt Backyard will come to life today at 6 p.m. in advance of the Steel Panther concert which hits the stage at 8 p.m. (doors at 7 p.m.). The space will feature bar service and food as well as entertainment by a DJ or local band. Tonight's lineup includes the Deep Fried Cheese Curds food truck and Bloodshots on the outdoor stage.
The Burt Backyard is considered an extension of the theatre proper allowing ticket holders to flow between the theatre and The Burt Backyard throughout the evening.
Supported by the City of Winnipeg, the West End BIZ, and the Exchange BIZ, and with the Downtown Winnipeg BIZ as a funding partner, True North will manage the activation, which includes investing in landscaping, lighting and pre and post-event cleanup and security, as well as staging and production for the events themselves. True North's efforts will leave a lasting neighbourhood improvement.
Weather permitting, The Burt Backyard will open one hour prior to doors and close approximately 30 mins post-show for select events between June 18 and August 29, including for the following events (subject to change).
• June 18 – Steel Panther
• June 21 – Galactic
• June 22 – The ABBA Show
• June 23 – Bobby McFerrin
• July 4 – Bad Religion
• July 7 – Katya
• July 23 – Slash
• August 7 – Blue Rodeo
• August 8 – Blue Rodeo
• August 16 – Quiet Riot
• August 19 – Tiny Meat Gang
• August 24 – The Iron Maidens
• August 29 – Godspeed You! Black Emperor
Patrons are encouraged to follow the Burton Cummings Theatre on social media for event day updates as they relate to The Burt Backyard activation – Twitter @theburtwpg, Facebook @burtoncummingstheatre as well as at burtoncummingstheatre.ca under show information.
To prepare for each event, a small stretch of Smith Street in front of the theatre will close at 4 p.m. Drivers can continue east on Smith and turn left (westbound) onto Notre Dame to continue on their route west. Smith Street in front of the theatre will reopen at approximately 1 a.m. the next morning. To prepare for today's first event, the road closure will happen early, at 10 a.m.
‹ Main News