TNSE tops Manitoba's Top Employer list
By Krista Sinaisky | November 29, 2017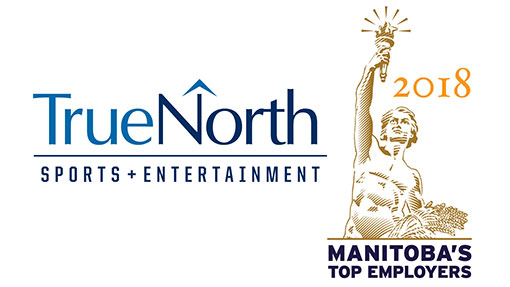 True North Sports + Entertainment has been recognized as a Top Employer for 2018, marking the 11th consecutive year of being awarded this designation.
The annual competition recognizes Manitoba employers that lead their industries in offering exceptional and progressive workplaces, and evaluates companies on the following criteria: physical workplace, work and social atmosphere, health, financial and family benefits, vacation and time off, employee communications, performance management, training and skills development and community involvement. Manitoba's Top Employers for 2018 placed a priority on employee and skill development and in investing in the next generation of talent.
True North Sports + Entertainment holds continuous improvement as one of its core values. This includes a culture of innovation, and the continued development of programs as well as of employees. Continuous improvement is based on Franklin Covey's Seven Habits of Highly Effective People and is among the many training and development opportunities that employees are encouraged to participate in.
Team, trust and respect, and doing the right thing are also values that are held as inarguable truths within True North. These values are emphasized and exemplified at all levels of the organization and contribute to True North's positive and engaging work culture.
As an employer, True North also stood out for their health and wellness program, which includes access to True North's multi-purpose sports centre, free membership to the onsite fitness facilities, fitness classes, and employer-paid health and dental benefits. Matched RSP contributions and other perks like profit sharing, concert and event tickets, and retail discounts also make up some of the financial perks offered by True North.
True North's commitment to community and work achieved through their charitable organization, the True North Youth Foundation, is also recognized as an attractive feature for prospective employees.
Creating meaningful and consistent contributions to the community through all aspects of True North's business is a team effort put forth by the growing workforce of more than 250 full-time and 1,200 part-time employees.
"We are all True North – we share in our challenges and we share in our successes," said Dawn Haus, Vice-President of Human Resources. "It is only because of our people that we are able to achieve, grow and succeed."
Please visit www.tnse.com/join-our-team to learn more about employment with True North Sports + Entertainment, and visit the True North Sports + Entertainment page on Manitoba's Top Employer website to learn more about this designation.
‹ Main News