TNSE venues earn impressive Pollstar rankings
By Krista Sinaisky | July 19, 2017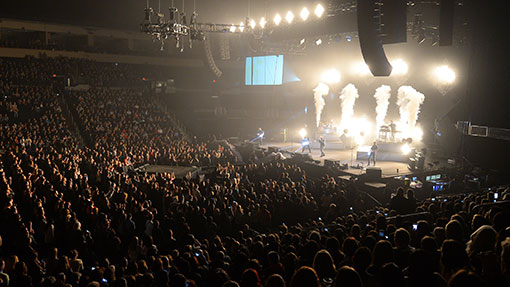 Pollstar, one of the concert industry's leading trade magazines for promoters, concerts and events, has ranked True North's Bell MTS Place (#113) and Burton Cummings Theatre (#92) on its annual mid-year list for worldwide ticket sales, released in mid-July. The rankings are even more impressive if you consider that based on North American venues, The Burt, making its debut on the chart, is #79, and Bell MTS Place is #80 with 44,881 and 74,956 patrons passing through the gates, respectively in the first six months of 2017.
Since assuming management of the 1,579-seat Burton Cummings Theatre in 2014 and acquiring full ownership of the former vaudeville theatre in 2016, True North has invested significant time and resources in a long-term project that will continue to rehabilitate and enhance the Burt as well as add to patron experiences. To date, True North has invested just over $1 million dollars in enhancements including new air conditioning, new seating, flooring, lighting and supporting infrastructure.
"The Burton Cummings Theatre is a vibrant and integral part of Winnipeg's entertainment scene," said Kevin Donnelly, True North Sports + Entertainment senior vice-president, venues and entertainment. "True North is committed to the continued growth and rejuvenation of this landmark venue and we look forward to building on its legacy," said Donnelly. "To have the Burton Cummings Theatre place in the top 100 of Pollstar's rankings for the first time is an affirmation of the community's support and True North's efforts to rehabilitate this legendary theatre."
This year, so far, more than 45 events have been held at the Burt, including acts such as Winnipeg's own The Watchmen and illusionist Darcy Oake, comedian Bill Burr and the international theatrical sensation STOMP! plus iconic artists such as Bonnie Raitt and Melissa Etheridge. The diverse lineup of entertainment continues for the remainder of 2017 and beyond, with highlights including k.d. lang, Colonel Chris Hadfield, comedian Ron James and the theatre's namesake, Burton Cummings performing a set of sold-out shows with proceeds going toward True North's ongoing investment into the Burt.
As for Bell MTS Place, top entertainment acts such as the Lumineers, Red Hot Chili Peppers and Tim McGraw & Faith Hill have contributed to the arena's top ticket sale ranking on Pollstar. "We work hard to convince these touring events to consider stopping in Winnipeg. This is a measurement of that effort, but it wouldn't be sustainable without the support of the ticket buying community in Manitoba. We hope to enhance our patron and fan experiences by introducing state of the art facility reinvestments," said Donnelly.
True North continues to invest in Bell MTS Place and the patron experience with $12 million in comprehensive concourse renovations to be completed this fall. The concourse renovations in Bell MTS Place are part of True North's multi-year "TN2020" venue improvement plan that brought new seating, improved sightlines, updated concessions and new digital technology to Bell MTS Place in 2016.
To view Pollstar's rankings, please visit:
Top Theatres
https://www.pollstar.com/Chart/2017/07/207MidYearWorldwideTicketSalesTop200TheatreVenues_581.pdf
Top Arenas
https://www.pollstar.com/Chart/2017/07/207MidYearWorldwideTicketSalesTop200ArenaVenues_579.pdf
‹ Main News