TNYF hosts 7th annual Winnipeg Jets Gala Dinner Oct. 23 at Bell MTS Place
By TN Staff | October 2, 2019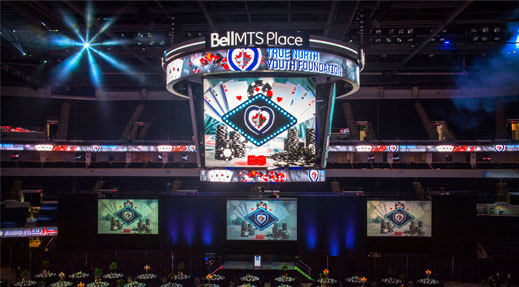 The True North Youth Foundation (TNYF) will host the seventh annual Winnipeg Jets Gala Dinner presented by Scotiabank on Wednesday, Oct. 23 at Bell MTS Place in support of its three core programs, the Winnipeg Jets Hockey Academy (WJHA), Camp Manitou, and Project 11 – a mental wellness program for students in Grades K-8.
Hosted by Scott Oake, the Gala Dinner provides a unique opportunity to mingle with players and coaches from the Winnipeg Jets and Manitoba Moose and bid on once-in-a-lifetime Jets and Moose experiences and limited edition memorabilia and collectibles. Dinner, created by Bell MTS Place Executive Chef Roger Wilton, will be served on ice-level before the fun moves to the arena concourse where guests can enjoy a "fun money" casino featuring Jets and Moose players as dealers.
Tickets to the 2019 Winnipeg Jets Gala Dinner are available by table or individually in minimum quantities of two. A limited number of tables with seating with hockey players/personnel are still available (full table purchases only). To purchase tickets please email [email protected] or call 204.926.5524, or visit TNYF.ca/GALA for more information.
The TNYF is the charitable entity of True North Sports + Entertainment and of the Winnipeg Jets Hockey Club. TNYF is relentless in pursuing its vision of empowering potential in youth by administering meaningful programs that enrich physical, social, mental and emotion aspects of a child's life. Thanks to the continued support of Jets and moose fans in our community, the TNYF was able to again build on its programming during the 2018-19 season and positively impact more than 42,000 Manitobans.
For more information on the programs of the TNYF, please visit TNYF.ca, CampManitou.mb.ca, ProjectEleven.ca or watch this video: https://www.nhl.com/jets/video/true-north-youth-foundation/t-277443454/c-46373503
‹ Main News