TNYF launches public awareness campaign to thank Manitobans
By TN Staff | August 24, 2017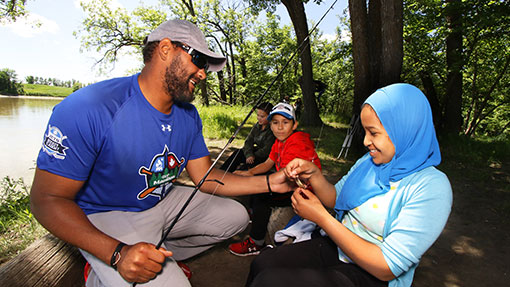 The True North Youth Foundation (TNYF) unveiled a new campaign today that celebrates the generosity of Manitobans who support its youth-centred programming, including the Winnipeg Jets Hockey Academy (WJHA), Camp Manitou and Project 11. Featuring Winnipeg Jets players Blake Wheeler, Dustin Byfuglien, Mark Scheifele, Nikolaj Ehlers, and Adam Lowry alongside some of the foundation's kids, the 'thank you' campaign also launches a new website and tagline, 'Empowering Potential', which captures the essence of the foundation's work.
Starting Monday, Sept. 4, billboards around Winnipeg will showcase the campaign's artwork and will continue with a multimedia presence into the 2017-18 season. For media use only: to download/view high-resolution images of the campaign artwork, please click HERE.
Winnipeg Jets and Manitoba Moose players play an important and growing role as WJHA, Project 11, and Camp Manitou mentors. "I am honoured to be an ambassador for the True North Youth Foundation and have the chance to meet and interact with some of the amazing kids from Hockey Academy, Camp and Project 11," said Winnipeg Jets captain, Blake Wheeler. "As role models to these kids, we see firsthand the smiles and laughter, as well as the confidence and life skills that our foundation programs can bring, helping students to excel on and off the ice."
"Our True North Youth Foundation campaign celebrates the success stories of our programs and especially the unwavering support of our Winnipeg Jets and Manitoba Moose fans and the Manitoba community who are integral to our efforts to connect with youth across our province," said Dwayne Green, executive director of the TNYF. "Through the continued generosity of our community, including hockey fans, volunteers, sponsors, business partners and our own employees, True North Youth Foundation is empowering potential for Manitoba youth by creating a sense of community, instilling confidence and providing opportunity."
Established in 1996 as the Manitoba Moose Yearling Foundation, the TNYF is the charitable entity of True North Sports + Entertainment and of the Winnipeg Jets Hockey Club. Community support through the sale of Jets and Moose home game 50/50 tickets and attendance at the foundation's premier events like the Winnipeg Jets Gala, Flatlander's Beer Festival, and Mike Keane Celebrity Hockey Classic have allowed the reinvestment of $13.5 million into the community through the work of the foundation's core programs and its support of other local non-profit organizations. Last year alone, more than 18,000 Manitobans benefited from $2.4 million that was invested in foundation programming.
A holistic and grassroots approach to youth mentorship and an involved and committed team of employees, board members and volunteers are key to the continued growth and meaningful impacts of the foundation's programs.
For more information on the True North Youth Foundation, its programs and events, or to make a donation, please visit its new website: www.truenorthyouthfoundation.com or www.tnyf.ca.
To learn more, watch this video: https://www.nhl.com/jets/video/true-north-youth-foundation/t-277443454/c-46373503.
‹ Main News