TNYF sweetens pot for launch of away game 50/50 raffle
By TNSE Staff | April 13, 2018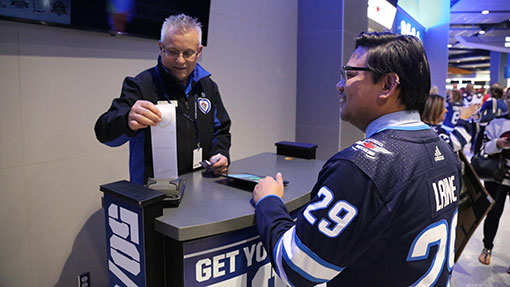 The True North Youth Foundation (TNYF) will launch its Away Game 50/50 Program tomorrow, allowing fans in Manitoba to purchase 50/50 tickets for the Winnipeg Jets at Minnesota Wild playoff away game, and all other away games this season, in support of TNYF and its youth-centred programs. Adding to the excitement, the foundation will sweeten the pot by contributing $10,000 to the opening amount.
TNYF has worked with the Liquor and Gaming Authority (LGA) and software partner Bump 50:50 to expand its existing 50/50 program to create more win-win opportunities for fans and the foundation.
For Sunday's 6:00 p.m. CT game in Minnesota, the draw will open at noon CT on Saturday, April 14 and will close at 9:30 p.m. CT on Sunday, April 15.
Fans can purchase their 50/50 tickets safely and securely online at www.tnyf.ca/fiftyfifty. Tickets will be sold 1 for $5, 3 for $10, 10 for $20, or 50 for $50. Once visitors are on the web page, there will be prompts to complete the transaction. As per LGA 50/50 regulations purchase can only be made from IP addresses that are within the province of Manitoba. The draw will take place at 9:40 p.m. CT and the winner will be contacted the next business day.
Established in 1996 as the Manitoba Moose Yearling Foundation, the TNYF is the charitable entity of True North Sports + Entertainment and of the Winnipeg Jets Hockey Club. TNYF is relentless in pursuing its vision of empowering potential in youth by administering meaningful programs that enrich physical, social, mental and emotional aspects of a child's life. Over the past five seasons, the Winnipeg Jets Hockey Academy, Camp Manitou and Project 11 have benefited from just under $7 million raised through the Kromar Printing 50/50 at Winnipeg Jets home games and Dave's Quick Print 50/50 at Manitoba Moose home games. Last year, more than 18,000 Manitoba youth benefited from the foundation's programs.
For more information on the True North Youth Foundation, its programs and events, or to make a donation, visit or www.tnyf.ca.
To learn more, watch this video.
‹ Main News