True North announces Heritage initiatives for 2021-22 and beyond
By Jason Friesen | August 13, 2021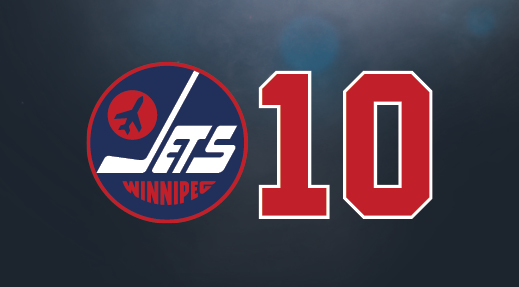 True North Sports + Entertainment (TNSE) and the Winnipeg Jets are excited to honour Jets alumnus and Hall of Famer Dale Hawerchuk through a number of initiatives over the coming year, including an application to designate a two-block stretch of Graham Avenue as Dale Hawerchuk Way, and by erecting a statue in his likeness in True North Square's plaza.
Honourary Dale Hawerchuk Way
If approved, Graham Avenue between Donald Street and Carlton Street will become Honourary Dale Hawerchuk Way in time for the 2021-22 Winnipeg Jets home opener.
"It is an honour to accept the application to have a portion of Graham Avenue honourarily named for Hockey Hall of Famer and first overall draft pick, Dale Hawerchuk," said Sherri Rollins, Winnipeg City Councillor. "We are proud to have Dale's name so closely associated with our city and look forward to making efforts to have his name memorialized in the downtown area."
Dale Hawerchuk statue
True North had previously announced its intention to erect a statue in Hawerchuk's honour and was able to share this news with Hawerchuk before his passing in August 2020. Erik Blome of Figurative Art Studio has been selected to design the statue which will be unveiled in True North Square in August 2022. Blome is an accomplished sculptor with over two decades of experience delivering commissioned statues worldwide. His work in hockey includes the Wayne Gretzky Statue at Staples Center in Los Angeles, the Chicago Blackhawks 75th Anniversary Commemorative Sculpture at the United Center in Chicago, and between 2013 and 2017 he was commissioned by the Toronto Maple Leafs to create "Legends Row" – a collection of 14 life-size sculptures outside what is now Scotiabank Arena. A full biography and portfolio can be found at erikblome.com.
First annual Ducky Pond Hockey Classic presented by Canada Life
True North Sports + Entertainment also looks forward to hosting the first annual Ducky Pond Hockey Classic presented by Canada Life in January 2022. Affiliated with the World Pond Hockey Classic, the tournament will be hosted on the new custom-made lake at Camp Manitou from January 13 to 16 with the winner earning a berth in and trip to the Canadian tournament in Plaster Rock, N.B. The tournament provides an opportunity to celebrate the roots of Canadian hockey and the special community that surrounds this great sport – something Hawerchuk would be proud to be associated with. The Ducky Pond Hockey Classic presented by Canada Life will be in support of Hawerchuk Strong and the True North Youth Foundation (TNYF), the charitable arm of the Winnipeg Jets, Manitoba Moose and True North Sports + Entertainment. More details on the tournament, including registration information, will be released over the fall. In the meantime, visit DuckyPondClassic.ca to sign up for the mailing list and be the first to receive news about the event.
"Dale has always been proud to be a part of the community in Winnipeg and felt very much at home in Manitoba. It meant so much to him during his battle with cancer to see all the love and support from his fans," said son Eric on behalf of the Hawerchuk family. "The Ducky Pond Hockey Classic is a perfect way to remember Dale. Some of our most cherished memories with him are playing pond hockey on Lake Winnipeg during the holidays with friends and family. There is something truly special about being on skates outside in Canada. This is going to be such a fun week and we are thrilled to be a part of it."
"Dale, quite simply, is part of the fabric of this city and of the Winnipeg Jets organization. Beyond that, he has contributed so much to the sport of hockey," said Mark Chipman, Executive Chairman and Governor, Winnipeg Jets Hockey Club and TNSE. "We are so proud to give Dale these much-deserved honours to showcase his extraordinary career and the remarkable person he was, and ensure his legacy lives well beyond the fans who followed his career and who were lucky enough to see him play."
Heritage licence plates
Also in support of the TNYF, True North, along with Manitoba Public Insurance (MPI), will launch a new edition of Winnipeg Jets custom licence plates, celebrating the team's heritage. Limited edition JH (Jets Heritage) and H (Heritage) series plates will be available, including motorcycle plates as part of the H series. The Heritage plates will be available at Autopac agents and MPI Service Centres across the province beginning Sept. 13.
Heritage Blue new official third jersey
Looking ahead to a full 82-game regular season for the Winnipeg Jets with full-capacity crowds at Canada Life Centre, fans can look forward to seeing more of the Heritage Blue jersey, which officially becomes the team's third jersey. The Heritage Blue jerseys will make their debut Nov. 9 vs. St. Louis and will be worn a total of 14 times throughout the season.
New ticketing packages for 2021-22
True North looks forward to safely reopening Canada Life Centre at full capacity to fully immunized fans this fall. To help welcome back the most passionate fans in hockey, True North has full-season ticket packages available as well as new quarter-season packages which offer savings off individual game tickets, consistent seat location, and come in a variety of plans to best fit your schedule. For 2021-22 season ticketing information, please visit WinnipegJets.com/TICKETS.
‹ Main News