True North expands on WASAC initiative to mark third season of Indigenous culture celebration and awareness
By TN Staff | April 19, 2021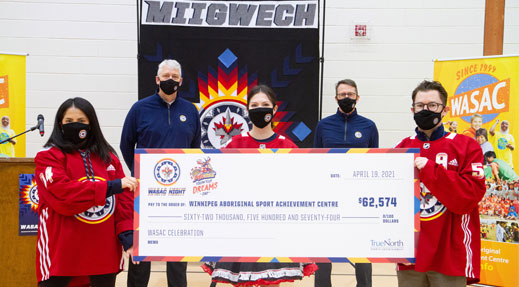 The Winnipeg Jets will host their third annual WASAC (Winnipeg Aboriginal Sport Achievement Centre) Night on Saturday, April 24 vs. the Toronto Maple Leafs. True North continues to expand the initiative by sharing spaces, sharing stories and fostering new and existing relationships despite pandemic circumstances that prevent the team from opening the doors to host and interact with Indigenous youth.
The initiative officially launched today at Sergeant Tommy Prince Place where True North presented WASAC with a cheque for over $62,000, representing the funds raised during the 2019-20 season through the WASAC jersey auction and Jets Gear WASAC retail program, which directs a portion of the proceeds from WASAC merchandise to the initiative.
True North continues to engage the Indigenous community in the growth of WASAC Night and its programs. Leticia Spence, designer of the Jets' WASAC and Manitoba Moose Follow Your Dreams logos and contributor to the teams' jersey design, continues to collaborate with True North's design team and this year, created new imagery representing First Nations, Métis and Inuit art and culture. The new imagery was borne through an immersive and collaborative process with Spence, True North's design team and members of these communities, not only through research and consultation but through shared cultural experiences.
A new multimedia presentation of this imagery will premiere alongside True North's land acknowledgement prior to the game on April 24 and will continue to accompany the land acknowledgements for all future games, including Manitoba Moose games.
True North is honoured to host the legendary Ray St. Germain who will sing the national anthem prior to puck drop. St. Germain is an award-winning musician and Canadian Country Music Hall of Fame inductee hailing from Winnipeg and who, for 13 years, wrote, produced and hosted the nationally syndicated award-winning TV show Big Sky Country. Over his 40-plus-year career, St. Germain has done voice acting, engaged in local politics, penned an autobiography, hosted over 600 television shows, and entertained Canadian Forces oversees. Most recently St. Germain has been active with the Aboriginal Peoples Television Network (APTN) and is an on-air personality and program manager with NCI-FM Radio where he hosts the Saturday morning program, Métis Hour x2. The Order of Manitoba and Aboriginal Order of Canada are among the honours he holds for his many contributions to Canadian culture.
For the second year, specialty WASAC warm-up jerseys will be worn by players and auctioned off following the game. The 2020-21 jerseys will be unique in that they are Valour Red in colour, following last year's Polar Night Blue sweater debut. The auction will go live at auctions.nhl.com on Thursday, April 29 and will close on Sunday May 9 at 8 p.m. CT. All funds raised will be put back into the WASAC initiative to create opportunity for Indigenous youth across the province.
WASAC Night (and the Manitoba Moose Follow Your Dreams Game) are part of the NHL's "This is Hockey" initiative, which promotes diversity and inclusiveness in hockey and showcases the need to foster a safe and inclusive environment for everyone in the community to both play in and enjoy.
To learn more about the development and symbolism of the Winnipeg Jets WASAC and Manitoba Moose Follow Your Dreams logos, watch this video: https://www.nhl.com/jets/video/c-65615003.
‹ Main News