True North recognized as one of Manitoba's Top Employers for 2019
By Krista Sinaisky | December 17, 2018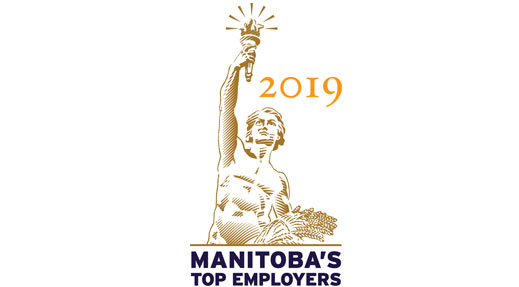 Rise Together
For the second season, the motto Rise Together is uniting fans, but those two simple words are also engrained in the day-to-day of all employees at True North Sports + Entertainment. Long before it was introduced as a tag line for hockey fans, it was a mantra that the team off the ice was living.
"What we experienced this year with the whiteout was both remarkable and humbling," said John Olfert, Chief Operating Officer with True North. "While it was noted that a deep playoff run was unchartered territory for our players, it was similarly new ground for our employees. With the elevated attention that the playoffs brought to our team, facility and city, we were encouraged and pleased by how our full and part-time employees rose to the challenges that came with the street parties, national broadcasts, viewing parties, and the excitement of playoff hockey."
While the experience brought new challenges that pushed everyone in the organization beyond their comfort zones, they were challenges that employees were ready and willing to take on, equipped with the same support and empowerment that guide their everyday.
"Our teams are incredibly hard working, dedicated, and resourceful," said Olfert. "This coupled with our values of Team, Do the Right Thing, Trust and Respect, and Continuous Improvement, served as the foundation for all the firsts faced by employees and True North."
As Vice President of Human Resources, Dawn Haus is a culture and engagement lead and has the pleasure of working with nearly everyone across the True North organization.
"Our mission and vision are not just words on paper, they really do guide us, and this starts with ownership and senior leadership," emphasized Haus. "The organization really and truly strives to live up to our values."
True North's vision is to be a source of pride for the community and this is a role the organization does not take lightly.
"True North has always strived to be an asset in our community and to make contributions that elicit pride, but we got to see it and live it during the playoffs in such a grand way and on such a large stage," said Olfert.
The contributions of each and every employee in their own respective areas were key to creating the bigger picture.
"Our whole team gave so much of themselves during this time," said Haus. "We saw and overcame challenges we have never faced, but in the end, it was rewarding to feel a part of the excitement and know that we continue to grow together through these experiences."
While the playoffs got much of the spotlight, this vision extends to all facets of True North's diverse operations, from the True North Youth Foundation (TNYF) and Camp Manitou to Bell MTS Iceplex, Burton Cummings Theatre and True North Real Estate Development. Thanks to the efforts of all employees, True North was able to participate in our community in a variety of ways, including by welcoming the first tenants to True North Square's office tower at 242 Hargrave and unveiling the public plaza; providing a patron experience that garnered recognition for Bell MTS Place as the number one NHL arena and one of North America's best venues for overall entertainment (Stadium Journey Magazine); and by hosting the inaugural Project 11 (one of the core programs of the TNYF) Mental Wellness Summit at the Burton Cummings Theatre.
Last year was no exception to True North's continued expansion either, as it grew its partnership with local start-up, Fannex, becoming an equity investor, and extended its concert operations with TN Touring, filling a niche for bringing exciting Broadway-calibre touring productions to mid-size arenas in Canada's medium and smaller markets.
With an organization that continues to grow and diversify, change and challenges are constant. Through culture and engagement, True North's team of more than 250 full-time and 1,200 event and part-time employees have shown willingness and ability to continually raise their own bar.
"Our people are responsible for bringing our organization's vision and goals to life, day after day, and year after year. This truth is not taken for granted by anyone at True North," said Haus.
In an effort to continue raising the bar, employees are being offered leadership development courses newly introduced this year, building on the 7-Habits training offered over the past three years.
True North pursues building community among its own employee teams with healthy meals served on game and event days, organization-wide luncheons, team building events like viewing parties, employee hockey, summer intramurals, and an annual employee Camp Day, as well as inviting employees' families to the annual holiday skate at Bell MTS Place, coupled with the perks of periodic event tickets and discounts at Jets Gear stores.
Onsite fitness facilities and an engaging employee health and wellness program add to the benefits package which includes fully paid health and dental benefits and a matched retirement savings plan that also offers annual group and one-on-one consulting opportunities.
True North pursues the goal of being a dynamic organization and special attention is paid to keep all employee teams connected. Internal communication tools, like the quarterly Our True North magazine, a newly launched employee web portal, and periodic Synergy Sessions, where departments report and present to one another, help everyone to keep pace with other teams.
Though there may be increased focus and attention on the Jets and on the entire True North organization following last season's playoff run, Olfert has a quiet confidence in the True North team. "Like our hockey teams, we will continue to work together, grow together and rise together."
True North is pleased to be recognized as one of Manitoba's Top Employers for the 12th consecutive year. For more information about employment opportunities with True North please visit tnse.com/join-our-team.
‹ Main News