True North Sports + Entertainment launches new mobile app and "Jets 360" rewards program for Winnipeg Jets and Manitoba Moose fans
By TN Staff | October 13, 2022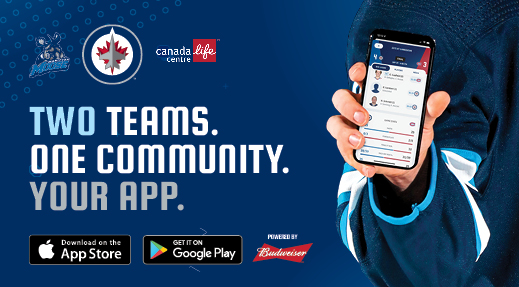 True North Sports + Entertainment has launched a new custom app that will provide Jets and Moose fans with one of the best user experiences in professional sports team apps, allowing fans to stay connected to their teams, manage their accounts, and earn rewards through one single cutting-edge mobile application. Fans can now download the Official Winnipeg Jets App powered by Budweiser for Android and iOS devices through the App Store or Google Play to create a Jets 360 account and start competing challenges and earning rewards today.
Key features
Following months of industry and fan research to provide users with a seamless and integrated user experience, the Official Winnipeg Jets App allows fans to stay connected to the Jets and Moose with round-the-clock access to team standings, rosters, statistics and schedules as well as articles, pre-game videos, post-game recaps, and real-time information before, during and after every game. Fans will never miss breaking news or key promotions with timely and customizable notifications from the app.
Features to help Jets and Moose ticket holders enhance their gameday experience include Ticketmaster's centralized TN Ticket Central ticket management for all games and Canada Life Centre events – a one-stop spot to easily purchase, access, manage and scan mobile tickets at Canada Life Centre. In addition, get easy access to TrueNorthShop.com, the interactive Game Centre where fans can participate in interactive in-arena games, 50/50 ticket purchases, Manitoba Moose Auctions, and more. Season Ticket Members and their share partners will be able to access their exclusive Food & Beverage and Jets Gear store discounts through a new digital Jets 360 ID card in the application.
Jets 360, a new groundbreaking program to reward fans
The Jets 360 rewards program, exclusively available in the app, offers a unique way for fans to participate in challenges and earn rewards and access to exclusive experiences.
"Manitobans have been so passionate and supportive since the return of the Jets in 2011," said Christina Litz, True North Sports + Entertainment's Chief Brand & Commercial Officer. "We have been working to build a program that genuinely thanks fans for their support and through Jets 360, we can reward fans as well as celebrate what makes our fanbase so special."
To level up through the tiered reward program, fans need to complete challenges like watching Jets and Moose games, answering trivia questions about the teams' histories, attending events at Canada Life Centre, supporting the community by visiting local landmarks and events, and even by playing hockey at community rinks like Iceplex and other neighbourhood clubs. Once they level up, fans earn "pucks" that can be used to participate in exclusive contests to win rewards or access unique experiences.
"A professional hockey team means so much more to a city than the games they play at
home during a season. A team can play a huge role in fostering a sense of community and pride," said Andrew Wilkinson, True North Sports + Entertainment's Director of Digital Product & Strategy. "With the launch of a new mobile app and Jets 360, we wanted to embrace our community of fans and reward them, not only for supporting their teams, but by encouraging them to take actions that help them engage and better connect with the community and make a difference."
The app was built with the help of Mirego, a Canadian leader in the creation and development of game-changing digital products that fuel the digital transformation of businesses. More details about the features of the app can be found at WinnipegJets.com/APP.
‹ Main News