True North Square announces Ceridian as newest tenant of 242 Hargrave
By Krista Sinaisky | January 11, 2019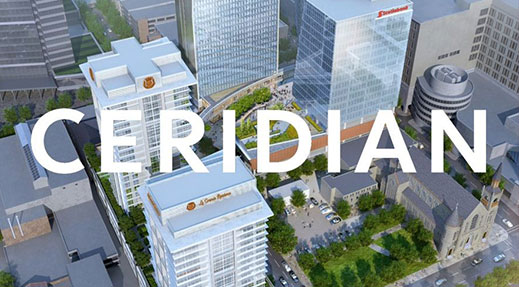 True North Real Estate Development Limited is pleased to announce that leading technology company, Ceridian, which provides human resources, payroll, talent management, benefits and workforce management in the cloud, has been confirmed as the newest tenant of 242 Hargrave located at True North Square. Ceridian's new Winnipeg office will occupy one full floor in the building, the first of four new towers located in the heart of downtown.
"Ceridian is a progressive and innovative technology company that we are proud to welcome to True North Square. Its new office space will complement its bright vision for the future of human resources and workforce management services and provides a blank canvas to create a superior experience for employees and customers," said Jim Ludlow, President of True North Real Estate Development. "Leveraging technology, outstanding amenities, and a best-in-class work space will enable Ceridian to propel forward and ultimately enhance the company's brand in Winnipeg and Canada."
Ceridian's office space at True North Square encompasses over 28,000 square feet located on the third floor in the building's podium. This expansive floor plan allows for truly cutting edge space planning that is both customizable and flexible to the tenant's needs. More than 200 Ceridian employees will work in this LEED Gold Class A space. With leading edge technology, floor to ceiling glass curtainwall, and over 12' ceiling heights, Ceridian's space in 242 Hargrave establishes a new benchmark in office building performance.
"Ceridian is committed to innovation and growth, which makes our new home in the heart of Winnipeg's exciting new SHED district perfect for our team." said Scott Kitching, Executive Vice President and General Counsel, who is based in Ceridian's Winnipeg Office. "This building was carefully selected to fit the needs of our business. Our new office space offers our people the best technology, location, and amenities, and will foster the positive and collaborative workplace culture we value at Ceridian."
True North Square is a transformative mixed-use development that will feature over one million square feet of office, hotel, residential, retail, parking and public plaza space in four towers, creating a new dynamic epicentre for Winnipeg's downtown.
The office spaces at True North Square meet the highest standards of workplace flexibility, tenant health and comfort, and sustainability. Access to skywalk connections, bike paths, and the rapid transit corridor bring convenience and environmentally sound options to employees' commutes. Amenities like underground parking, bike storage, fitness and conference centres, a variety of retail offerings, and being only steps away from the city's biggest sporting and entertainment events bring further convenience and lifestyle advantages to those who work and live at True North Square.
True North Real Estate Development partners with business leaders and innovative firms to realize exceptional and integrated places for people to work and live.
To learn more about True North Square, please visit truenorthsquare.com.
For more information on Ceridian, please visit ceridian.com.
‹ Main News