TNS announces MNP LLP as newest leading tenant
By Krista Sinaisky | February 9, 2018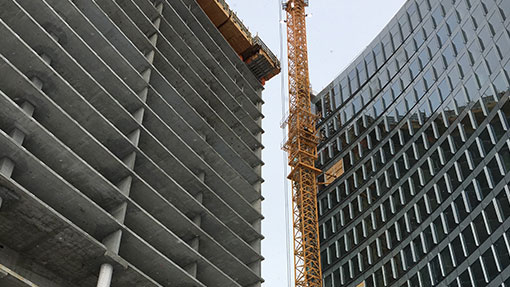 True North Real Estate Development Limited (TNRED) is pleased to welcome leading national accounting, tax, and business consulting firm MNP LLP as the latest addition to a growing complement of progressive tenants at True North Square, located in the new epicentre of Winnipeg's downtown. MNP's new Winnipeg office will occupy over two and a half floors in 242 Hargrave, the first of four towers to be completed at True North Square.
"MNP is one of Canada's largest, fastest growing and most dynamic accounting and consulting firms. The opportunity to grow and innovate at True North Square aligns very nicely with MNP's desire to enhance and solidify its leadership position in this marketplace – space is a business asset, a real estate investment in people, technology, clients and ultimately a company's brand," said Jim Ludlow, President of True North Real Estate Development. "This new office space at True North Square will be a manifestation of this growth trajectory and dynamic, and the emerging power of the MNP brand in Canada."
More than 250 MNP employees will work in 53,000 plus square-feet of LEED Gold Class A office space featuring leading edge technology, super efficient floor to ceiling glass curtainwall, 9'6" ceiling heights, and high-performance mechanical systems that will contribute to creating an environmentally friendly workplace of the future. MNP will be actively involved in the design of their space in order to create a stimulating workplace environment for their employees. 242 Hargrave establishes a new benchmark in office building performance providing for better air quality, natural light and energy efficiency all which will allow MNP to expand their staff complement and foster their growth in a happier and healthier workplace environment.
"True North Square's state-of-the-art development demonstrates the commitment of True North Real Estate and passion to Winnipeg and Manitoba," said Andrew Stibbard, Regional Managing Partner of MNP. "Like True North Real Estate, MNP believes in the Manitoba spirit, culture and can-do attitude. MNP was founded in Manitoba in 1958 and has grown to become the fifth largest accounting, tax, and business advisory firm in Canada. We are looking forward to welcoming our team and clients to our new home."
True North Square meets the highest standards of workplace flexibility, tenant health and comfort, and sustainability. Access to skywalk connections, bike paths, and the rapid transit corridor bring convenience and environmentally sound options to employees' commutes. Amenities like underground parking, bike storage, fitness and conference centres, a variety of retail offerings, and being only steps away from the city's biggest sporting and entertainment events bring further convenience and lifestyle advantages to those who work and live at True North Square.
True North Square is a transformative mixed-use development that will feature over one million square feet of office, hotel, residential, retail, parking and public plaza space in four towers, creating a new dynamic epicentre for Winnipeg's downtown.
True North Real Estate partners with business leaders and innovative firms to realize exceptional and integrated places for people to work and live.
To learn more about True North Square, please visit www.truenorthsquare.com.
For more information on MNP, please visit www.mnp.ca.
‹ Main News