True North Square Plaza to officially open September 27
By Krista Sinaisky | September 21, 2018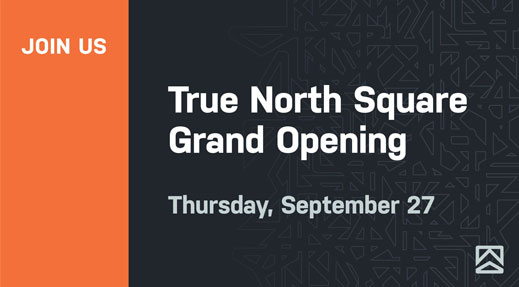 True North Square will officially welcome the public to visit the plaza and celebrate the opening of Tower 1 at 242 Hargrave on Thursday, September 27 as construction is completed and fencing is removed, allowing public access for the first time.
"After so much anticipation we are thrilled to be able to showcase the many features of this public plaza to the citizens of Winnipeg," said Jim Ludlow, President of True North Real Estate Development.
The opening of True North Square will be celebrated with a full day of programming that begins with free coffee (to the first 3,000 people) courtesy of Tim Hortons beginning at 6:30 a.m. and leads into the evening activities hosted by Ace Burpee, and with appearances by Mick E. Moose and the Winnipeg Jets promo team from 5 p.m. to 7 p.m. in advance of the Winnipeg Jets vs. New Jersey Devils pre-season game.
Musicians and performers will bring the space to life throughout the day while the formal opening will take place at 1 p.m. including a treaty acknowledgement and honour song to recognize the history of the Treaty One land that True North Square is built upon. The Honourable Premier Brian Pallister and his Worship, Mayor Brian Bowman will also bring greetings to officially open True North Square.
The 56-jet water feature will be on display for the first time that morning. Winnipeggers are invited to take a coffee break in the plaza, engage in table games that will be set up throughout the space, stroll up the grand staircase, or enjoy a quiet moment surrounded by the landscaping that features hearty prairie grasses and plantings.
Food trucks will be on site beginning at 3 p.m. in time for a coffee break or pre-game festivities.
"We welcome Winnipeggers to celebrate this significant milestone with us, and with their neighbours, as we showcase the new reality of downtown Winnipeg," encouraged Ludlow. "Bring your lunch, grab a snack, enjoy the entertainment and of course, take part in the grand opening program, which will be a historic moment for our city."
Activities and programming subject to change.
True North Square is a cutting-edge mixed-use development that, upon completion, will feature over one million square feet of office, hotel, residential, retail, parking and public plaza space, further building upon the new dynamic epicentre of Winnipeg's downtown.
Tower 1 at 242 Hargrave opened its doors with the first tenant, Thompson Dorfman Sweatman (TDS), officially opening for business at their new home in July 2018. Tower 2 at 225 Carlton Street is a hybrid office, retail, and residential building that will feature 194 high-end residential rental units that will be move-in ready in the spring of 2019. Phase 2 of the project includes True North Square's third and fourth towers, the Sutton Place Hotel and Residences, to be located on the corner of Carlton Street and St. Mary Avenue with anticipated completion in 2021.
To learn more about True North Square, please visit www.truenorthsquare.com.
‹ Main News