True North stands with WASAC in remembering 215 lives lost
By TNSE Staff | June 2, 2021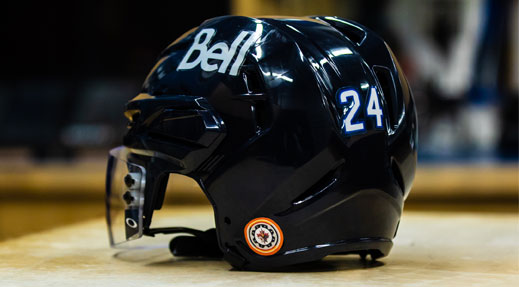 As a long-time partner of the local youth organization WASAC (Winnipeg Aboriginal Sport Achievement Centre), True North stands beside WASAC and Indigenous communities in Manitoba and across Canada, wanting to amplify their voices in honouring the lives of the 215 children lost. True North Sports + Entertainment shares the community's remorse after the remains of 215 children from the Kamloops Indian Residential School were found in Kamloops, B.C.
Committed to our own journey in truth and reconciliation, True North will use our platforms to raise awareness and more importantly, to take action. Accordingly, a moment of silence will be held at tonight's Winnipeg Jets Stanley Cup Playoff home game versus the Montreal Canadiens at Bell MTS Place at 6:30 p.m. CT.
For the remainder of the Stanley Cup Playoffs, Winnipeg Jets players will wear special helmet decals displaying the Indigenized Jets logo designed by Indigenous artist Leticia Spence from Pimicikamak First Nation, and surrounded by an orange circle, symbolic of the lasting impacts of residential schools among Indigenous peoples. Additionally, to show their support, Montreal Canadiens players will wear special decals on their helmets with an orange outline around their logo.
As part of the Winnipeg Jets' WASAC and Manitoba Moose Follow Your Dreams initiatives first introduced in 2019, True North and WASAC launched a collection of merchandise featuring the Jets' and Moose Indigenized logos with proceeds benefitting WASAC and their work in providing opportunities for Manitoba's Indigenous youth. In support of the collective efforts of True North and WASAC, Jets Gear and TrueNorthShop.com will be adding an orange WASAC logoed T-shirt to its WASAC merchandise collection later this week. The full collection of WASAC merchandise can be found at TrueNorthShop.com/COLLECTIONS/WASAC.
The flags at True North's venues have also been lowered and will remain at half mast.
Former residential school students and others affected by this tragedy can access 24-hour crisis support at 1-866-925-4419.
WASAC is a non-profit organization that embraces the pride of Winnipeg's Indigenous youth and families, and helps to remove barriers for thousands of children and youth annually through year-round sport, culture, and recreational programming. Since its inception in 1999, WASAC has grown to become Canada's largest employer for Indigenous youth. For more information on WASAC, please visit WASAC.info.
‹ Main News