True North Streaming produces Folk in the City: Live at the Burt with Winnipeg Folk Fest
By Jason Friesen | March 2, 2021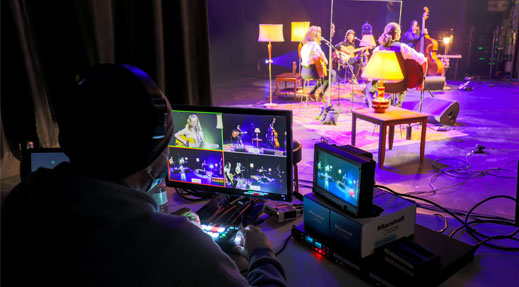 With creativity and innovation, we are all trying to make the best of the limitations of the pandemic, including finding unique ways of connecting with each other in a time that has kept us physically apart. In the live entertainment industry, that's manifested itself in the form of increased streamed and recorded concerts and events.
The Winnipeg Folk Festival, which in a typical year runs concerts throughout the calendar in Winnipeg on top of the hugely popular outdoor summer festival at Birds Hill Park, is the latest to put together a series of livestreamed concerts – Folk in the City: Live at the Burt. In partnership with the Burton Cummings Theatre and True North Streaming – a new offering from True North Sports + Entertainment's A/V and production team that provides video streaming services for performances and many other types of virtual events – this free concert series is a chance for artists to reconnect with their fans, and for those behind the scenes to use creativity to reinvent their offerings.
"People are really missing live events right now, and likewise, the Burt is really missing people," said Ruben Ramalheiro, Director of Live Entertainment at the Burt. "Livestreamed events will never be able to completely fill the hole left by attending a concert in person, but it's still such a treat to be able to watch artists perform on stage even if it's through a screen. We're excited to work with our production team to be able to bring these concerts to the homes of Winnipeg music lovers."
The excitement of getting back to performances of any kind was also evident in Artistic Director for the Winnipeg Folk Festival, Chris Frayer. Though Frayer wasn't the one on the stage, the creativity involved in bringing together an event – virtually or otherwise – is always a thrill.
"We may not be able to get together for in-person concerts, but it's exciting to be creative again and to work with people that you enjoy working with," said Frayer. "The energy around this project was high and you can tell that we were all missing this. I know our audience is also missing a sense of community and I hope this fills a hole for them until we can celebrate music in person again."
While True North's production team typically focuses their time on hockey content, whether creating feature videos used in game or on social media or producing JetsTV pre and post-game livestreams, the streaming series presents a new challenge in working in a different side of entertainment.
For Steve Godkin, Manager of Visual Media Production for True North, the biggest shift came in pivoting the production and set for each artist. Whereas producing a Jets game always has a similar look and feel, each musical artist brings a different energy to their music that needs to be matched by the production.
"There are obviously a lot of differences between producing videos for live hockey and live music," said Godkin. "When you break it down to what you're aiming to achieve through the videos though, we are in essence trying to make an emotional connection with the audience. Music, lighting and even filming styles and angles play a part in achieving this."
Made possible by a Safe at Home MB grant, the Folk in the City: Live from the Burt concerts will feature local artists, such as 2020 Polaris Music Prize longlist hip hop group Super Duty Tough Work, Anishinaabe musician Leonard Sumner, and acoustic soul artist JP Hoe, among many others.
All of them have been itching to hit the stage as much as fans have been craving to watch them according to Frayer.
"They were and are very excited (to perform again)," said Frayer. "It was a good way to collaborate and to share some of their new songs with folks."
TN Streaming represents the continued evolution of entertainment and not just a passing phase during these physically distanced times. The industry sees a place for streaming services even after artists can return to live performances.
"Streaming was certainly propelled by the pandemic but the industry was already leaning into it," said Ramalheiro. "The streaming platform gives artists and promoters, and anyone looking to host a virtual event of any kind, flexibility and the opportunity to diversify – whether that's by providing on-demand entertainment or expanding audiences beyond a geographic area."
Folk in the City: Live from the Burt concerts will be streamed each Sunday throughout March – March 7, 14, 21, and 28 – at 7 p.m. CT and can be viewed on the Winnipeg Folk Fest's Facebook page and YouTube channel. To learn more about the featured artists, visit winnipegfolkfestival.ca.
Visit TNSE.com/STREAMS to learn more about True North Streaming or book your next virtual meeting, webinar or performance with True North's experienced production crew.
‹ Main News