True North unveils $13M Canada Life Centre renos and introduces expanded F&B
By Krista Sinaisky | September 25, 2023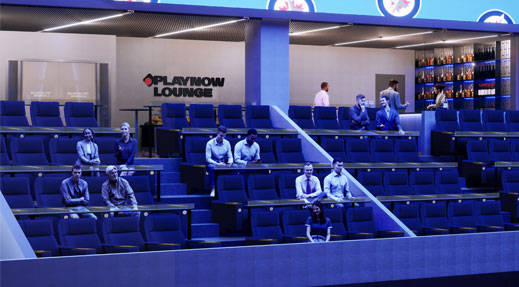 New for the 2023-24 season, True North will unveil $13M in renovations and introduce an expanded selection of food & beverage offerings including new concept concessions that will bring local craft beer and a Winnipeg-famous burger to Canada Life Centre.
North concourse expansion and new F&B
The north concourse has been extended out to the Portage Avenue sidewalk, increasing circulation space and creating a cohesive flow for guests.
New concession concepts throughout the venue include Burrito 204, featuring burritos, gourmet nachos and sweet treat churros; Hot or Not Chicken where you can make your chicken fingers and sandwiches hot, or not, with a side of house made kettle chips seasoned to perfection with Executive Chef Richard Duncan's signature True North spice blend; and YWG Burger which will introduce an all-new burger menu that includes the famous Salisbury House Nip to the home of the Winnipeg Jets. In addition, YWG Burger's signature burger will be "The Social Burger" bringing the taste of a classic late-night Manitoba social buffet to every bite.
The new Crown Royal Whisky Hangar on the 300 level pays homage to Gimli, Man. and will introduce new signature Crown cocktails for the regular season.
Continuin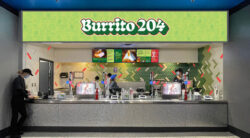 g partnership with Labatt and expanded new offerings from Trans Canada, Kilter, Little Brown Jug and Andrew Peller
Canada Life Centre is pleased to confirm its partnership renewal with Labatt Breweries, as well as welcome local craft breweries for the 2023-24 season. Craft Beer Corner, located in the north main concourse and outside of section 310, will feature products from local craft breweries Trans Canada, Kilter and Little Brown Jug.
In partnership with Andrew Peller Limited, Canada Life Centre now offers its most expansive wine selection ever including 20 new listings to our Premium spaces, new single serve bottles conveniently available at hawking and Grab N Go locations, and new by-the-glass pours at select concessions.
Fan can learn more about the locations of Canda Life Centre concessions at CanadaLifeCentre.ca/guest-services/maps.
Pre-game Parties presented by Michelob Ultra
Fans can continue to enjoy the $6 pre-game beer special at the refreshed Michelob Ultra Fan Deck (at section 329), Bud Red Light Bar (at section 212), and in the Atrium where Michelob, Bud, and Bud Light will be featured.
PlayNow Lounge Premium experience
Located on the Manitoba Liquor & Lotteries Premium Suite Concourse, three suites have been transformed to the latest trend in premium experiences with the reimagined PlayNow Lounge presenting a new and modernized way to enjoy live entertainment from Winnipeg Jets hockey to a full slate of concerts and events. Eighty-eight luxurious theatre-style seats, private bar, in-seat service and inclusive food and non-alcoholic beverages provide businesses with an elevated way to enjoy, entertain, host, and network with others while taking in some of the best entertainment Manitoba has to offer. Information on the PlayNow Lounge is available at WinnipegJets.com/PREMIUM.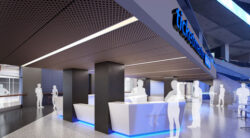 Enhanced and expanded Premium spaces
Extensive renovations have also expanded and fully remodelled the Premium club, introducing Ticketmaster Lounge, providing exclusive access for Premium Members and ticketholders with an expanded private bar, enhanced food and beverage options and in-seat service. Ticketmaster Lounge provides direct access to the new Scotia Wealth Management Premium Club situated at Event Level, offering elevated amenities and food and beverage selections for Premium guests to enjoy before and during the game. The space includes food concepts courtesy of Market Kitchen and Chef's Corner. Information about Premium Memberships and experiences is available at WinnipegJets.com/PREMIUM.
Construction and final finishings will continue in some spaces through the pre-season with full access and programming scheduled to be in place for the Oct. 14 Winnipeg Jets Home Opener. A complete venue-wide Wi-Fi upgrade will also optimize wireless service for all in-venue technology and guest use by the regular season home opener.
The Winnipeg Jets pre-season home schedule begins today with a 7 p.m. puck drop vs. the Edmonton Oilers, followed by tilts vs. the Flames on Wednesday, Sept. 27 and the Senators on Thursday, Oct 5. The regular season officially gets underway Saturday, Oct. 14 with the Home Opener vs. the Florida Panthers and the pre-game Party in the Plaza at True North Square which opens at noon and will feature entertainment, food and beverage and prizes. Ticket packages and single game tickets are available now at WinnipegJets.com/TICKETS.
Fans can enhance their gameday experience by downloading the Winnipeg Jets App at WinnipegJets.com/APP and by joining the Jets 360 Rewards program.
‹ Main News