True North values hold stronger than ever during pandemic
By TNSE Staff | November 25, 2020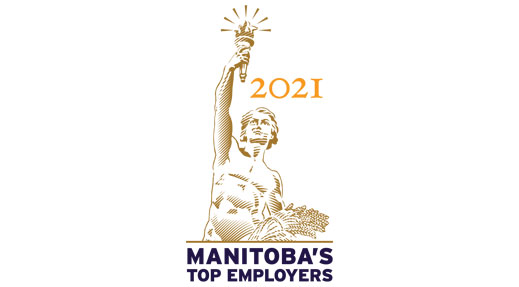 As is the case for many local organizations, the COVID-19 pandemic has tested the resiliency of True North Sports + Entertainment as a company, and of its employees, both personally and professionally.
While the ebb and flow of COVID-19 restrictions has allowed True North to resume protocol-modified operations at its five Jets Gear retail outlets and Bell MTS Iceplex; welcome cohort-managed summer campers to the True North Youth Foundation's Camp Manitou; and briefly resume NHL hockey in August in the playoff "bubble," nearly all aspects of True North's business and service offerings have been at a standstill since March 12. Being in the business of hosting large gatherings at Bell MTS Place and the Burton Cummings Theatre, True North fully anticipates being one of the last businesses to fully resume operations.
Amid the challenges and uncertainties, the long-standing and deep-rooted organizational values that True North has been committed to during times of success and growth – Team, Trust and Respect, Do the Right Thing, and Continuous Improvement – have continued to guide the organization during the pandemic, and led to the development of new human resource principles to help navigate an off-season like no other.
True North's priority throughout the pandemic has been to keep its team intact and strong and to provide care to employees with consistency. Ownership, leadership and all employees have expressed a collective trust to engage in work and activities that support one another and a stronger return to business, and an understanding that as a team/family, True North shares in the wins and good times and also shares in the losses and times of adversity.
Whether by pivoting, innovating, pitching in to other areas of the business or preparing for resumption and remaining ready to safely reopen the doors of Bell MTS Place and the Burton Cummings Theatre, True North employees have continued to exemplify True North's values.
"Not dissimilar to others, this has been a challenging time filled with uncertainty for the organization and our employees, as we look for information and indicators from health authorities, the NHL and AHL, the touring industry, suppliers, vendors and one another," said True North President & Chief Operating Officer John Olfert. "Our response to the uncertainty has been communication. We share what we know, admit to not having all the answers on issues where our line of sight remains blurry, and encourage our True North team to stay in conversation with one another as we support and care for each other and the community we serve."
True North's efforts to make communication a priority started with daily updates to its entire workforce to keep the team informed and connected throughout the first several months of the pandemic. A key message throughout has been the importance of a healthy and safe workplace. Underlining this commitment was the creation of the "Care, People, Resumption" committee to continuously review protocols and guide a safe return to physical office and working spaces. When the time comes for resumption of events at Bell MTS Place and the Burton Cummings Theatre, these same safety principles and processes will be in place to ensure a safe in-venue working environment for True North's casual and part-time workforce as well.
As important as timely information sharing has been two-way communication and the ability to maintain employee interaction – not only for business matters but for relationships and workplace culture.
"With the pandemic eliminating many of our traditional gatherings and celebratory events, it was important to find new ways to keep everyone connected and engaged," said Dawn Haus, Vice President of Human Resources. "This meant using our new virtual tools to switch to digital formats to host our information sharing 'Synergy Sessions' and 'All Hands' meetings and taking advantage of new opportunities to team build like through our virtual social clubs."
One of the ways in which True North builds team is through community service. Whether through making mental wellness resources and hockey-themed kids activities available online, participating in True North's hamper initiative, spending a day laying sod at Camp Manitou, or providing at-home fitness and training videos to the community, teams continued to bond in giving back.
Teams are not just giving back to the community; they are also giving back to each other and to the organization. Throughout the pandemic, employees have embraced opportunities to take on redeployment projects, lend their skills to other areas of the organization and provide support in new ways. As well as building on their sense of team and in some cases building new skills, the ability to lend a hand outside key areas of expertise has created a new awareness and understanding of others' roles and of other areas of True North's business.
The business realities of the pandemic have required some practical considerations including limiting expenditures to essential spending, deferring capital projects, not filling vacancies left open by employees who have left, suspending certain benefits and implementing a reduced work week program. These measures, coupled with a commitment from ownership, have allowed True North to avoid layoffs due to the pandemic.
"This unique break in our seasonal cycle has afforded the opportunity to look at things in a new way and it has been gratifying to see our team find success despite the uncertainty," said Olfert noting the dozens of ideas that have come in that continue to be explored and put into action, including a new Jets Hockey Development ringette camp that ran in August at Bell MTS Iceplex (organized and led by the Manitoba Moose sales and production team).
Fostering a positive workplace culture has long been a priority for True North but in the face of distanced working and disruptions to usual seasonal schedules and tasks, creating the right conditions for remote and continued engagement has been a focal point.
"We are an organization that focuses on people and experiences, both for our guests and our employees," said Haus. "Although we cannot be together as we normally are, and we might not be doing all the things that are most familiar to us at this time of year, it is more important than ever to reinforce that we are collaborating in an environment of trust and to ensure that our employees feel heard, trusted and valued, and know that they are meaningfully contributing."
‹ Main News