True North & Winnipeg Jets #GoBlueToba in support of Toba Centre this October
By TN Staff | October 3, 2022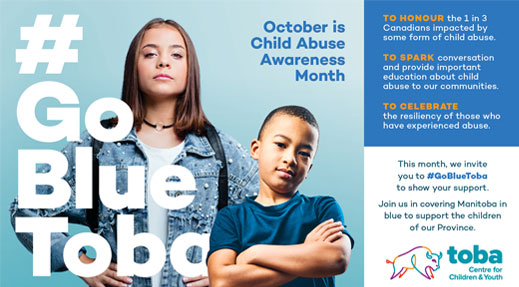 True North Sports + Entertainment and the Winnipeg Jets are pleased to further the message of child advocacy organization Toba Centre by promoting awareness for their important work to support victims and families of child abuse through Child Advocacy Month this October.
Child Advocacy Month recognizes the importance of families and communities working together to strengthen families to prevent child abuse and neglect. October also marks the launch of Toba Centre's awareness campaign #GoBlueToba to engage the community in their work through conversation and awareness.
As well as amplifying #GoBlueToba's message, during the month of October, the Winnipeg Jets will host Toba Centre on the concourse where people can learn more about their important cause. Tickets will also be provided to youth and families through various child advocacy organizations.
On Oct. 24, designated as #GoBlueToba Day, Canada Life Centre will light up in blue and the Winnipeg Jets will hold a special puck drop and cheque presentation before the Jets vs. St. Louis Blues game in support of Toba Centre's capital campaign to build a new first-class response facility that will bring the many services involved in investigation and recovery – police, medical, criminal, justice, and child protection – under one roof.
Jets forward Adam Lowry has stepped into an ambassador role with Toba Centre, providing a voice of encouragement for kids who are both in the recovery process and who have not yet stepped forward.
"Creating visibility is one of the best ways to help enact positive change when it comes to Toba Centre," Lowry said. "All kids need a voice – they need a team around them. We are on your team and we will support you in any way we can."
"On so many fronts, I think it's incredible for the Winnipeg Jets and for Adam to be involved. There are a lot of people who will see this issue differently," said Toba Centre Executive Director Christy Dzikowicz noting Lowry's support as a gamechanger for the issue of child abuse. "For kids who walk through our door every day to hear messaging coming from their favourite hockey team and their favourite players, I think we can do a lot to remove any type of stigma around victimization making you vulnerable or weak."
Toba Centre urges Manitobans to #GoBlueToba this October by becoming part of the community rallying for kids' wellness, safety and recovery. On Oct. 24, wear blue, light up your business or residence with blue lights and get engaged in the conversation at tobacentre.ca or through their social channels @TobaCentre on Twitter and @tobacentremb on Facebook and Instagram.
The Winnipeg Jets host four games at home in October – the final home pre-season game vs. the Calgary Flames on Wednesday, Oct. 5, the Home Opener vs. the New York Rangers on Saturday, Oct. 14, vs. the Toronto Maple Leafs on Saturday, Oct. 22, and Child Advocacy Night vs. the St. Louis Blues on Monday, Oct. 24. Tickets are available at WinnipegJets.com/TICKETS.
‹ Main News