True North works toward positive changes in hockey and beyond
By TN Staff | June 14, 2022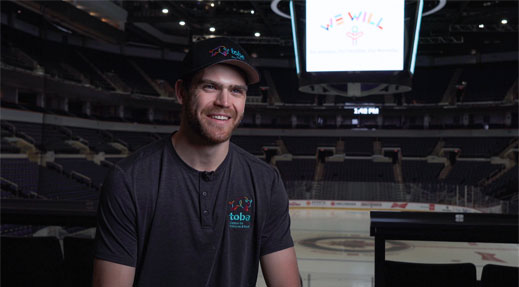 Toba Centre partnership part of True North's commitment to support survivors and prevent bullying, abuse, harassment, and discrimination
With the 2011 passing of Winnipeg Jets/Manitoba Moose player Rick Rypien, leadership at True North Sports + Entertainment knew it was important to ensure Rypien's legacy was honoured, and that a tragedy could be transformed into an opportunity to help future generations of young people. With that, the school-based mental wellness program Project 11 was born. Now in more than 450 Manitoba schools, the highly regarded program is delivering much-needed mental wellness curriculum and resources to over 70,000 Manitoba students.
The revelation of the full extent of sexual harassment and abuse suffered by Kyle Beach during his time in professional hockey brought another societal issue to the forefront last fall. Beach's story was a stark reminder of the realities of abuse, both within and outside hockey, and which greatly impacted Winnipeg Jets owner Mark Chipman and the entire True North organization, and brought new resolve to impact change.
"When a social ill becomes front and centre, you just have a responsibility to do what you can to take it on," said Chipman. "I think there's a role for hockey to play in this because we have a voice."
Chipman noted the palpable and somber reaction Beach's story drew across the organization, and especially within the hockey group and amongst players.
"We've felt the impact so significantly and we know that's only a fraction of people who have been victimized," said Chipman. "We know very well that it is not by any means limited to the hockey world, and in fact, I think quite the opposite is true."
True North is approaching the work to be done around bullying, abuse, harassment, and discrimination (BAHD behaviours) in much the same way as it approached mental health education and awareness with Project 11 – with a desire to effect the kind of change that goes beyond moments of silence and ceremonial puck drops.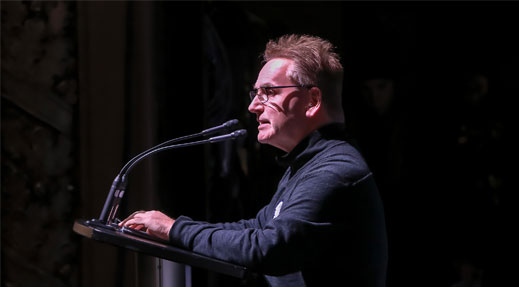 True North committed to working with the NHL and engaging qualified experts to create positive changes within hockey that will prevent future occurrences and foster a culture where victims of sexual harassment and abuse can safely come forward.
While True North's work started within its own organization, this commitment extends to the larger hockey community, and more locally, within the community True North serves.
The Winnipeg Jets led the charge to mandate the implementation of Sheldon Kennedy's Respect Group training program across all NHL teams and were the first team to put the training into place – achieving 100 percent certification across the True North organization.
An extended support system helped Chipman navigate this pivotal point in a journey that had already started several years prior. Well-known abuse survivor Kennedy and Crown Prosecutor Courtney St. Croix (daughter of former Moose goaltending coach Rick St. Croix) provided the guidance, knowledge, expertise and lived experience that Chipman needed to address the issue and consider meaningful next steps.
St. Croix's extended professional knowledge of sexual abuse and its many implications, and her unique perspective from having grown up around high-level hockey is helping to inform follow-up training for all True North employees.
"As I've also come to learn, the extent of what crosses the line of the Criminal Code, how far reaching the laws are and the implications of a breach are often not fully understood," said Chipman.
The new training will create a greater awareness of the laws and an understanding of the implications surrounding sexual assault.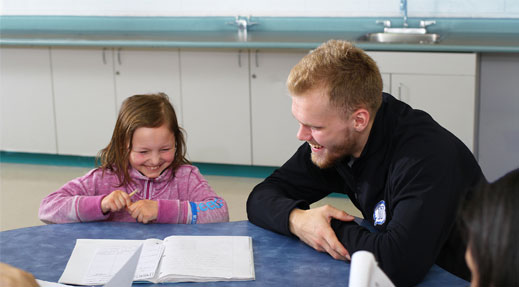 Through both True North and the NHL, reporting mechanisms have already been in place, but True North will take that a step further. A customized app is in development which will provide an additional more readily accessible and user-friendly method of reporting BAHD behaviours for all full and part-time True North employees.
Christy Dzikowicz, Executive Director of the Toba Centre and a lifelong child advocate, has also been especially influential to Chipman along this journey. Over the past several years, Chipman came to learn more about the realities of child abuse in Manitoba and the role of the Toba Centre in supporting young victims.
The child advocacy organization was established to improve Manitoba's response to child abuse by centralizing the many services that contribute to a victim's reporting experience and putting greater emphasis on victim support and recovery.
A new first-class response facility will be built in Assiniboine Park, physically bringing the many services involved in investigation and recovery – police, medical, criminal justice, and child protection – under one roof. Through the centre's recently launched capital campaign, financial support from True North will further this project.
"The idea of building a facility that has all the wrap-around supports that these kids need – it's a comprehensive, well-thought-out, long-term plan that fits in our wheelhouse with the True North Youth Foundation," Chipman said, noting the facility will mirror a similar centre in Calgary with proven methodology that Kennedy pioneered.
There are currently more than 4,000 child abuse investigations in Manitoba every year – a startling number on its own, but due to the many barriers that prevent reporting, the number of actual abuse cases is estimated to be significantly higher.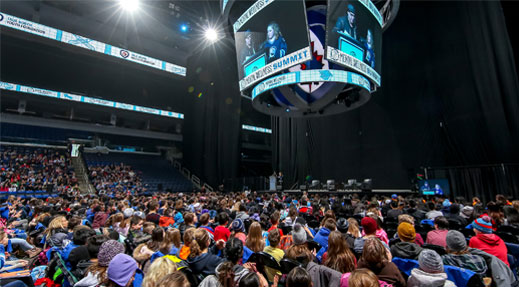 Two prominent True North voices will help to promote the support and awareness that Dzikowicz said is needed to help more kids thrive past abuse.
Project 11 will work with the Toba Centre to enhance its curriculum to address the topics of abuse and harassment in an age-appropriate way, while Winnipeg Jets forward Adam Lowry has stepped into an ambassador role with the centre.
"Adam is the first guy that's going to jump in and stand up for his teammates and I think this is kind of what this is – he wants to stand up for another team," said Chipman of the fit.
Dzikowicz envisions that Lowry will provide a voice of encouragement for those who are already in the recovery process, and for those who have not yet come forward.
"Having someone like Adam join their team, tell them that they believe in them, and rally for their wellness and support, it speaks volumes," she said.
Though Lowry is early in his own journey in learning more about the topic of abuse and the centre's work, he's hopeful his voice will resonate with youth.
"All kids need a voice, they need a team around them," Lowry asserted. "It takes a lot of support to get through a season. That, compared to what some of these kids have gone through, is very miniscule. So, if you can lend your voice, lend your support and be on their team, it's definitely something important, and something I want to do."
Chipman has accepted the opportunity to chair a new NHL committee that will focus on the culture of hockey – within and beyond the NHL – ranging from issues like equity, inclusion and diversity, to any type of abuse or lack of respect in the workforce of the game.
Chipman sees the committee as a very positive step forward for the game but acknowledged the long-term nature of the work ahead.
"I expect going into next year we'll have the opportunity as a group to talk about the broader issues of respect and abuse, and that's a process we're going to ask Sheldon to guide us through," he said. "We're just getting started."
‹ Main News