Welcome to BMP's new open concept box office
By Krista Sinaisky | August 8, 2018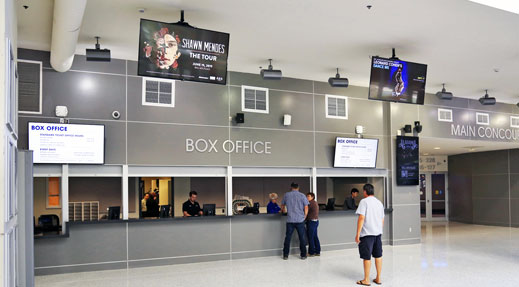 Bell MTS Place (BMP) has traded in the traditional ticket windows for a new open concept box office that will now welcome patrons with face to face ticketing service in the Portage Avenue atrium. The newly renovated space, which opened August 1, represents the new and modern box office concept that is trending in the industry.
A month-long renovation saw the complete redesign of the box office space that, in addition to removing the glass barriers, made staff working space more efficient and included software upgrades. New digital screens also offer show information to patrons.
"Face to face communication with True North's ticket representatives will set a new tone for customers' experience at the box office," said Linzy Jones, Senior Director of Ticket Service & Operations. "It's a much more inviting interaction that puts patrons at ease, especially those who may have an issue that they are trying to resolve."
Customer service satisfaction has show to significantly improve in other venues where the transition has ben made to an open concept box office. Customers feel better understood and better connected to the reps who are assisting them and overall, transactions are made and issues are resolved more promptly.
"Digital and mobile ticketing offers a lot of convenience and flexibility to patrons and more personal interactions will better help patrons navigate the transition to this digital process," said Jones.
The new box office is just one change that True North has made to contribute to a 360-degree customer service experience that starts with the ticket purchase and continues until patrons are safely on their way from the venue. Frontline agents and account representatives are being cross trained on all systems to provide the tools, resources, and knowledge to be able to assist all customers, no matter the event, nature of the inquiry or system.
"Every interaction with our patrons counts," said Jones. "Starting with the ticket transaction, providing efficient, effective and personable service, is as important as the event or game that they are coming to enjoy."
The All Access team was there for the grand opening of the box office prior to the Alabama concert on August 1.
‹ Main News