Welcome to Winnipeg warms up winter for Canadian newcomers
By Jason Friesen | January 28, 2019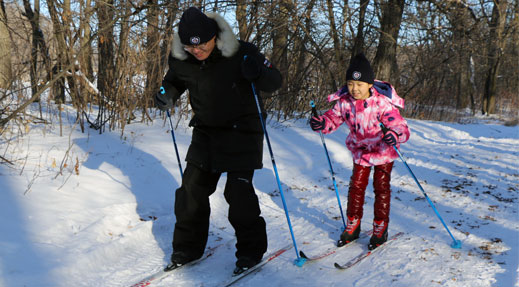 The True North Youth Foundation (TNYF) certainly gave a warmer greeting to many of Winnipeg's newcomers than the winter weather did this year. Though the frigid temperatures may not have been tough to beat, the TNYF once again went above and beyond in welcoming new Canadians to our city and province by showing them how to have some outdoor fun in a chilly climate.
The 2018-19 winter season marked the second year that the TNYF has hosted their Welcome to Winnipeg events. The initiative, supported by a grant from NHL Players' Association Industry Growth Fund, brings groups of newcomers to Camp Manitou and introduces them to winter activities such as tobogganing, snowshoeing, cross-country skiing, and of course skating.
"I think it's really important for these new Canadians who come here, and this is going to be their new home," said Camp Manitou Director, Rick Bochinski. "They get to experience all the activities that we have. A lot of Winnipeggers, even on a day like today are staying inside. But these guys are going to learn what skating and tobogganing are and try new activities. I think it's a great way to embrace your new culture."
The NHL Players' Association Industry Growth Fund is getting exactly what it's looking for out of the program: growth. The Welcome to Winnipeg events have doubled in size since last year. This year, nearly 300 new Canadians participated in six sessions held in December and January.
Participants have come from a variety of groups that help newcomers settle into life in Winnipeg, including the Immigrant Refugee Community Organization of Manitoba, the Seven Oaks Neighbourhood Settlement, Welcome Place, and Congo Canada Charity Foundation, as well as groups from Red River College, the University of Winnipeg, and University of Manitoba.
The group from the Congo Canada Charity Foundation got to take in the last sessions of the season on Jan. 26, and thoroughly enjoyed it. When the group went skating, they could barely get the kids inside for lunch despite the cold weather.
"We've been given the opportunity to come and experience the Canadian winter," said Paul Kambaja, President of Congo Canada. "The kids are very excited, and I am very excited. For us newcomers, we sometimes just need to be introduced to the cold because we don't want to experience the cold. But then we spend a lot of our time inside, which is not really helping us. So this is a great opportunity for these kids to be outside and to embrace their new country."
‹ Main News