Winnipeg girl's generosity is bigger than a playoff rivalry
By Jason Friesen | April 17, 2019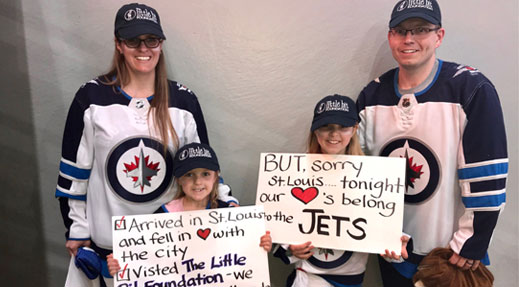 The Winnipeg Jets and St. Louis Blues are lining up on opposite sides of the ice in the first round of the Stanley Cup Playoffs. But a young Winnipeg girl is helping to remind fans of both squads that we are all on the same team off the ice.
Rather than let the hockey rivalry spill into the lives of fans, six-year-old Madison Leferink is showing generosity to the people of St. Louis by fundraising for the Little Bit Foundation, an organization that works with 12,000 impoverished students a week to remove obstacles that stand in the way of them receiving an education. The foundation, which has seen support from the Blues for many years, provides children with basic needs like clothing, books, school supplies, nutritious meals after school, and health services.
The whole idea started when Madison was nominated by her mother, Shauna, for one of Air Canada's Mark Maker Awards, given to children that do good for others.
"This year for Madison's birthday, instead of getting presents, she asked that each kid bring 10 dollars," Shauna said. "Five dollars she put towards a gift for herself, and then the other five dollars she got to put towards a charity of her choice."
With such a generous act, Madison won the Mark Maker Award, meaning she got the trip of a lifetime to see her hometown Winnipeg Jets take on the St. Louis Blues in St. Louis for Game 4 of their First Round playoff series.
Having not already chosen a charity for her birthday funds when she won the Air Canada contest, Madison, with her parents, decided to pay it forward, and chose a charity in the city they would get to visit – St. Louis.
"We chose the Little Bit Foundation because some kids there don't have that much money, and I liked the foundation because I could give them the money I raised myself," said Madison.
After deciding on the foundation, Madison invited her whole school class to participate as well. Upon receiving donations from her classmates, the Leferinks decided to open the donation door further by starting a GoFundMe page, setting a goal of $1,000.
On their way down to St. Louis, the Leferinks found out they had reached their goal – and more.
"When we arrived in Toronto (for a connecting flight), Air Canada met us and said that while we were in the air, Madison reached her goal of $1,000 for the Little Bit Foundation, and Air Canada matched it," noted Shauna.
Rosemary Hanley, CEO and co-founder of the Little Bit Foundation, found out about the donation a week before the Leferinks flew down to St. Louis, and was beyond impressed with Madison's initiative.
"It just warms my heart, and it just shows that anyone can make a difference, and everybody is important," said Rosemary, noting that Madison's example of showing everyone the power of teamwork is just as important as the money raised.
Shauna and Madison were invited to come and meet the Little Bit Foundation team and tour their facilities prior to Game 4 on April 16 and the Little Bit Foundation team was just as excited for the chance to meet their new supporter. Rosemary even let Madison choose what her $2,300 donation (the amount raised as of the afternoon of April 16) would go toward. After learning that many students the Little Bit Foundation supports are homeless and have a high mobility rate, Madison chose to put it toward travel bags.
"If we all work together, great things can happen," continued Rosemary. "This just shows that a young girl sees the bigger picture and she can rally people to do things to help others. Can you believe everyone that's coming together? Air Canada, the Jets, the Blues, Madison, the Little Bit Foundation – it's powering good."
That's a point Madison's mom is just as proud of, and one that everyone, regardless of who we cheer for, can get behind.
"It's been a neat thing that our little six-year-old could spark this opportunity for us to go beyond hockey and share between our communities in Winnipeg and St. Louis."
Header Photo: Madison (left) and sister Jordyn (right) at the Little Bit Foundation with CEO Rosemary Hanley (centre) and foundation staff.  
Insert Photo: Madison (left) and sister Jordyn (right) with their parents at Game 4 of the First Round playoff series between the Jets and Blues in St. Louis.
‹ Main News