Winnipeg Jets 2021-22 promo schedule includes pre-season Celebration of Frontline Workers
By TN Staff | September 9, 2021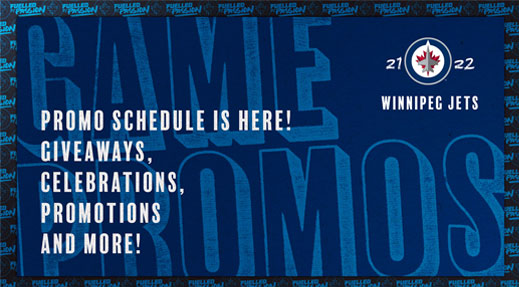 The Winnipeg Jets 2021-22 promotional schedule launches this pre-season with a Celebration of Frontline Workers on Sept. 26 and 29 and Oct. 6 at Canada Life Centre. To show appreciation for the ongoing dedication and commitment of frontline workers who have supported all Manitobans throughout the pandemic, the Jets will celebrate essential workers in-game and provide them with the chance to attend the three pre-season home games through a random draw and with the help of Season Seat Holders.
Winnipeg Jets Celebration of Frontline Workers
The Jets are encouraging Season Seat Holders to donate their pre-season tickets directly to deserving frontline workers whom they know, including healthcare workers, teachers, grocery store workers, truck drivers and more, to recognize the essential services they have provided to our community. Tickets can be forwarded electronically through Winnipeg Jets Accounts on desktop or mobile devices. For full details on transferring tickets, please visit WinnipegJets.com/TICKETCENTRAL/ForwardingYourSeats.
Frontline workers are also encouraged to enter a random draw to win tickets to one of the three pre-season games at WinnipegJets.com/TICKETS/FrontlineWorkers. The deadline to enter for tickets to a certain pre-season game will be five days prior to that game with winners notified by email.
In celebration of Manitoba's frontline workers, the Jets will offer a 25 percent discount on select food and beverage items for the pre-season games.
"This has been an especially tough year and a half for those Manitobans on the frontlines of the pandemic," said Christina Litz, Chief Brand & Commercial Officer, True North Sports + Entertainment. "Now that we are finally coming together to cheer on our team, we could think of no better group to thank and honour than the people who allowed us to get to this point. We know our loyal Season Seat Holders will get behind this special start to our season."
Winnipeg Jets 2021-22 Promotional Schedule
In addition to the thrill of live hockey, fans have plenty to be excited about with the return of a full promotional schedule for 2021-22, including special in-game celebrations, recognition of NHL initiatives and causes close to the Jets and to True North, as well as giveaways and specialty jersey nights:
Oct. 21 – Home Opener to welcome fans back to Canada Life Centre
Nov. 13 – Canadian Armed Forces Night
Month of November – Hockey Fights Cancer (HFC) 10th anniversary campaign throughout the month of November with the HFC game taking place Nov. 22
Dec. 14 – Winnipeg Jets Toy Drive
Jan. 8 – Go Green Night
Jan. 25 – NHL's #HockeyTalks Game
March 8 – Gender Equality Game
March 22 – Pride Night
March 27 – Next Generation Game
April 2 – WASAC (Winnipeg Aboriginal Sports Achievement Centre) Game (fourth annual), which will again welcome Indigenous youth for a weekend of special initiatives
April 29 – Fan Appreciation Night
Enhancing the in-game entertainment experience of these themed games – and each and every home game – will be the dazzling visuals of on-ice projection, a new production element for the 2021-22 season.
Fans can also look forward to the return of in-game prizing and contesting, along with a number of exciting giveaways including:
Oct. 23 – Scotiabank scarf
Nov. 9 – Heritage licence plate keychains
Dec. 19 – Snow globe
Jan. 27 – Posters
March 15 – Mini jerseys
April 6 – Bobbleheads
Also part of the lineup will be the 14 appearances of the team's new official third jersey, Heritage Blue, beginning on Nov. 9 vs. the St. Louis Blues and again on Nov. 11, 13, and 16, Dec. 14, 17 and 19, Jan. 15 and 16, March 15 and 18, and April 2,6, and 8.
Winnipeg Jets players will engage with the community through favourite events including the holiday hospital visits in December and Reading Takes Flight in March. The Jets Community Relations team also looks forward to hosting the Jets Town Takeover viewing party in Stonewall in April (winning town from 2020).
More information on these initiatives will be announced at a later date, including details of online jersey auctions and ways fans can engage with the team and further support these causes.
To see the entire Winnipeg Jets 2020-21 season schedule, please visit WinnipegJets.com/SCHEDULE, or WinnipegJets.com/TICKETS/GAME-PROMOS for the full promotional schedule.
Season Seat and New Quarter Season Plans
New for this season, the Winnipeg Jets and Canada Life Centre launched Virtual Venue, a tool that simulates a three-dimensional viewing experience from hundreds of angles and that facilitates the selection and purchase of Season Seats directly from a computer or mobile device. Season Seats offer as much as a 75 percent savings per seat along with benefits, including exclusive contesting and gifts, event access, discounts on select concessions and at Jets Gear, and Stanley Cup ticket purchasing priority, for just a single year commitment. Fans can find more information at WinnipegJets.com/TICKETS/SEASON-SEATS.
New Quarter Season Plans offer savings on individual game tickets with the benefit of consistent seat location and the variety of four different options to best fit your schedule. Fans can learn more about the Canadian matchup, divisional rival, weekend, and weekday packages at WinnipegJets.com/INFO/QUARTER-SEASON-PLAN.
True North looks forward to safely reopening Canada Life Centre at full capacity to fully vaccinated fans this fall. For more information on True North's commitment to community health and safety, please visit CanadaLifeCentre.ca/HEALTH-WELLNESS.
‹ Main News