Winnipeg Jets and Manitoba Moose to celebrate 2023 WASAC and Follow Your Dreams games presented by Scotiabank through art, music, and sharing spaces
By TN Staff | February 21, 2023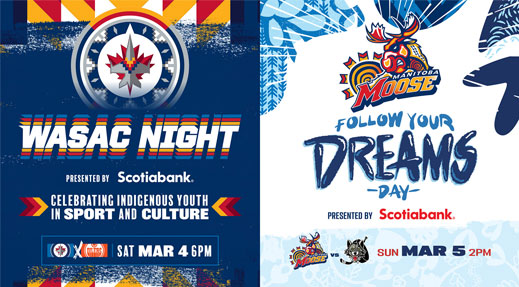 The Winnipeg Jets and Manitoba Moose will celebrate their fifth annual WASAC (Winnipeg Aboriginal Sport Achievement Centre) Night and Follow Your Dreams (FYD) Day games presented by Scotiabank March 4 and 5 when the teams take on the Edmonton Oilers and Chicago Wolves respectively at Canada Life Centre. The weekend is a celebration of Indigenous culture that also welcomes youth from Indigenous communities to attend the games and participate in ancillary events.
The Jets and Moose will again be seeking to share spaces, share stories, and foster relationships as part of their WASAC and Follow Your Dreams initiatives by hosting youth from northern and remote Indigenous communities, including Pauingassi First Nation, Northlands Denesuline First Nation, Bunibonibee Cree Nation, Shamattawa First Nation, Minegoziibe Anishinabe First Nation, and the Métis Community of Duck Bay. Youth will get to attend the WASAC and Follow Your Dreams games, courtesy of presenting sponsor Scotiabank, as well as enjoy a morning of activity at Camp Manitou on March 4, including participating in a Project 11 mindful movement session and a skating session on the camp's outdoor rink with Sydney Daniels, College Scout with the Winnipeg Jets from Mistawasis First Nation in Saskatchewan.
The Jets will celebrate WASAC Night on March 4 at 6 p.m. through Indigenous art and music. The Jets will sport their 2023-edition WASAC jerseys for the pre-game warm-up, and the visiting Edmonton Oilers will also join in the celebration by wearing their own Indigenized warmup jerseys featuring their Turtle Island logo, marking the first time two NHL teams will be on the ice together in their Indigenized sweaters. Following warm-ups, a special puck drop ceremony will take place at centre ice, featuring Phil Fontaine, former national chief of the Assembly of First Nations, grand chief of the Assembly of Manitoba Chiefs, and chief of Sagkeeng First Nation.
Music from a variety of Indigenous cultures will fill Canada Life Centre, headlined by a second intermission performance from Juno-winning singer-songwriter William Prince of Peguis First Nation. Since releasing his first solo album in 2015, Prince has continued to build momentum in the music industry, noted by a Western Canadian Music Award, Canadian Folk Music Awards and his Contemporary Roots Album of the Year Juno Award in 2017, among several other accolades. Most recently, Prince performed on the stage of the legendary Grand Ole Opry in Nashville in February in promotion of his fourth album set to release in April this year.
Along with the Prince performance, fans will be treated to the sounds of the Spirit Horse Singers drum group during the puck drop ceremony, Inuit throat singers and North End Band performances throughout the evening, and singer Krista Rey will perform the Métis anthem in the first intermission. O Canada will be sung in Dakota by Mahpiya Hdega Wayawatipi (Spotted Cloud School) student choir from Dakota Plains Wahpeton Nation.
The Moose Follow Your Dreams Day game – an initiative that started with the original Moose franchise in 2000 – takes place on March 5 at 2 p.m., and the Moose will don their 2023 Follow Your Dreams jerseys throughout the match. The game will open with a ceremonial puck drop celebrating several Indigenous youth community representatives and featuring current Winnipeg Jets college scout Sydney Daniels from Mistawasis First Nation in Saskatchewan. On the concourse, fans will have the chance to learn about Indigenous art from local artists: Dreyden Flett will showcase appliqué ornamental needlework, Joanne Soldier will show off her Ojibwe floral beadwork, and Claire Johnston will teach fans about Métis beading. Thanks to the help of several members of the Moose wives and girlfriends group, Johnston will have a limited quantity of small beading packages available for youth in attendance to take home so they can try their own hands at beading.
Both the WASAC and Follow Your Dreams games will be broadcast in Plains Cree. The Jets WASAC Night game will be broadcast on APTN's Hockey in Cree program, while a special livestream of the Moose Follow Your Dreams Game featuring APTN's Hockey in Cree play-by-play announcer Clarence Iron will be available for free at MooseHockey.com. It is believed that this will be the first AHL game broadcast in Plains Cree.
The Jets WASAC jerseys and the Moose Follow Your Dreams jerseys will be auctioned off to raise funds for WASAC and their efforts to continue to create opportunity for Indigenous youth across the province. A selection of the Moose jerseys will be auctioned off during the Follow Your Dreams Day game on the concourse outside Section 125, while the remainder will be auctioned off at auctions.nhl.com/manitobamoose, along with the Jets WASAC jerseys at auctions.nhl.com/Winnipegjets, from Thursday, March 9 at 5 p.m. CT to Sunday, March 19 at 8 p.m. CT.
Fans can get WASAC and Follow Your Dreams apparel including the new WASAC fan jersey, t-shirts, hoodies, toques, fan chains and more at any of the five Jets Gear locations or online at TrueNorthShop.com with a portion of WASAC merchandise proceeds going to WASAC.
WASAC Night and the Manitoba Moose Follow Your Dreams Day are part of the NHL's "Hockey is for Everyone" initiative, which promotes diversity and inclusion in hockey and showcases the need to foster a safe and inclusive environment for everyone in the community to both play in and enjoy.
For more information on the Jets WASAC initiative, visit WinnipegJets.com/COMMUNITY/WASAC. More details on the Moose Follow Your Dreams initiative can be found at MooseHockey.com/COMMUNITY/FollowYourDreams.
‹ Main News