Winnipeg Jets build awareness for mental wellness through "Hockey Talks" in January
By Jason Friesen | January 22, 2021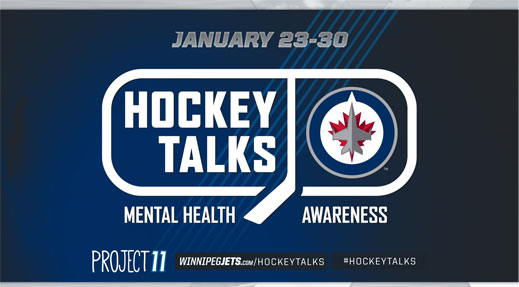 The Winnipeg Jets are proud to reinforce the importance of mental health care and awareness through the annual NHL #HockeyTalks initiative, promoted throughout the month of January. The league's national public awareness campaign is designed to encourage conversations about mental health and share support and information from leading experts in the hopes of alleviating some of the misconceptions and stigma associated with mental illness.
The team will focus on this initiative from Jan. 23 to 30, further engaging in the conversation and sharing information and stories through digital platforms. This includes bringing awareness to local mental health organizations and their resources through the team's social channels and highlighting the work and important wellness messages of the True North Youth Foundation's (TNYF) Project 11.
#HockeyTalks helmet decals will be worn during the four home games during the campaign – Jan. 23 vs. Ottawa, Jan. 24 and 26 vs. Edmonton, and Jan. 30 vs. Vancouver.
The team will continue its practice of making player-worn Dry-FIT #HockeyTalks shirts available to raise funds for Project 11. The shirts will be available through NHL Auctions from Feb. 1 through 9 at auctions.NHL.com/WinnipegJets. For the first time, a set of the limited edition Dry-FIT tees will also be available in youth sizes as part of the auction.
Project 11 is a cross-curricular mental health awareness program available to all Manitoba teachers for Grade K to 8 classrooms. The program has also launched a senior years pilot project for the 2020-21 academic year. During these especially difficult times, the program has helped many youth and their families adjust to the new normal of the pandemic, highlighting the importance and benefit of having a turnkey mental wellness program available to students and educators. The Project 11 team has trained more than 1,000 new educators during the pandemic, meaning that more than 48,000 youth are benefitting from the wellness curriculum this school year.
Project 11 launched its Check In Podcast this season, providing another platform to continue important mental wellness conversations. Targeted to high school students, parents and educators, the podcast reinforces the idea that mental health affects each and every one of us by featuring high-profile special guests, including Jets players and alumni, while also sharing wellness tips and coping strategies. January's episode, titled New Beginnings, is out now and features one of the newest Jets, Nate Thompson sharing some of his off-ice struggles and the coping strategies that helped him persevere through those tougher days. Adding to the usual monthly release will be a bonus January episode in recognition of #HockeyTalks that focuses on the topic of trust and features Craig Heisinger, Winnipeg Jets Sr. Vice President & Director of Hockey Operations and Project 11 advocate who was a close friend of Rick Rypien – a former Winnipeg Jets and Manitoba Moose player whose story and struggle with mental health was the inspiration for Project 11. The episode will be released Wednesday, Jan. 27. To listen to the Project 11 Check In Podcast , visit Apple Podcasts, Spotify, Google Podcasts and YouTube; new episodes will be released monthly.
To learn more about how the True North Youth Foundation works to provide mental health education and resources for youth, please visit ProjectEleven.ca.
MENTAL WELLNESS
According to mental health experts, on average, one in five Canadians will experience a mental health problem or illness in their lifetime; thereby affecting indirectly many more Canadians through a family member, friend or colleague. Stigma or discrimination attached to mental illnesses presents a serious barrier, not only to diagnosis and treatment, but also to acceptance in the community. Approximately 70 percent of mental health problems and illnesses have their onset during childhood or adolescence. Identifying the signs early and getting connected to tools and support is the most important way to prevent problems from becoming worse. Mental health problems and illnesses can be treated effectively.
These statistics were compiled from information available through the following websites: Mental Health Commission of Canada, Canadian Mental Health Association, and the Centre for Addiction and Mental Health.
‹ Main News