Winnipeg Jets celebrate Pride Night presented by Bud Light on April 5
By TN Staff | April 3, 2023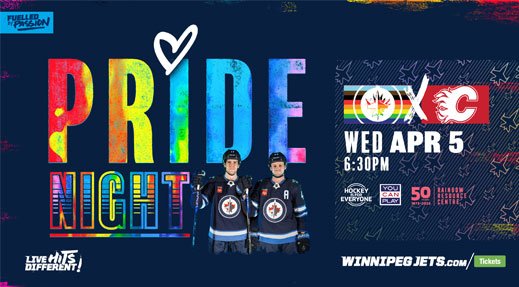 The Winnipeg Jets will continue to strive to build a community that welcomes and celebrates authenticity and the love of hockey through their annual Pride Night game presented by Bud Light on April 5 against the Calgary Flames. As part of the larger Hockey is for Everyone initiative and alongside the You Can Play Project, the Jets' Pride Night aims to show that all are welcome in hockey and any teammate, coach, or fan who brings passion to the rink should be supported and respected.
Jets players will support the initiative by wearing special Pride Night jerseys during the pre-game warmup and providing sticks with the Pride tape for auction. The Pride jerseys and sticks will be auctioned off during Pride Month from June 1 at 5 p.m. until June 11 at 8 p.m. at auctions.nhl.com, with all proceeds supporting the You Can Play Project and the Rainbow Resource Centre.
Jets fans will have opportunities to learn more about the services and resources of four different organizations on the concourse at Pride Night, including the Rainbow Resource Centre, a Winnipeg organization nurturing inclusive spaces for 2SLGBTQ+ communities to thrive; the You Can Play Project, which works to ensure safety and inclusion for all who participate in sports, including 2SLGBTQ+ athletes, coaches and fans; Pride Winnipeg, which runs the annual Pride Winnipeg Festival consisting of an array of cultural events to celebrate the 2SLGBTQ+ community and; The Other Skaters zine, a local self-published booklet of photos and stories focusing on skateboarders who are 2SLGBTQ+. Additional information on each can be found at RainbowResourceCentre.org, YouCanPlayProject.org, PrideWinnipeg.com, and by searching @theotherskaters on Instagram.
Prior to the game, Rainbow Harmony Project – Winnipeg's choir for the 2SLGBTQ+ community and their allies – will sing the national anthem. Learn more about Rainbow Harmony Project at RainbowHarmonyProject.ca.
Jets Pride apparel, including hoodies, t-shirts, caps and scarves, is available at all Jets Gear locations and online at TrueNorthShop.com.
For more information on the NHL's Pride initiative, please visit NHL.com/Community/Pride.
‹ Main News