Winnipeg Jets' eighth Hockey Fights Cancer campaign launches Nov. 2
By TN Staff | October 24, 2019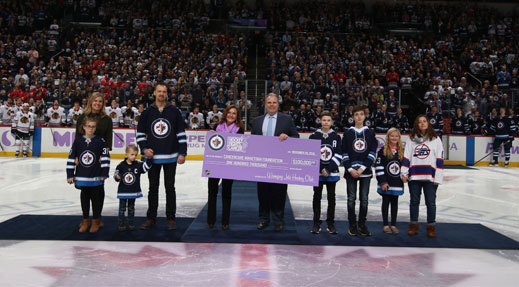 Winnipeg Jets fans have generously donated more than $765,000 to CancerCare Manitoba Foundation (CCMF) in seven previous Hockey Fights Cancer (HFC) campaigns, and are being called on to boost that number by participating in this year's campaign at Winnipeg Jets and Manitoba Moose home games throughout November.
This year marks the eighth season that the Jets have joined the NHL's league-wide HFC initiative. As in past years, the local campaign is in support of CCMF pediatric clinical trials and will run throughout November. Fans will have the opportunity to give at all Winnipeg Jets and Manitoba Moose home games during the month through the purchase of $5 raffle tickets (which will also be sold at all Jets Gear locations), giving them the chance to win a Jets warm-up worn/issued HFC jersey. Mystery autographed pucks and mini sticks will also be available for purchase on the concourse at all five Jets home games in November, with funds also going to CCMF.
The campaign culminates at the Jets HFC game Nov. 23 when four CCMF child ambassadors will take to centre ice to participate in the ceremonial puck drop and then enjoy the game. All four ambassadors have inspiring stories, which will be shared at WinnipegJets.com leading up to the HFC game. The team will bring back the lavender rink boards and in-game visual media, and the evening's 50/50 proceeds will be donated to the cause. One-of-a-kind pottery pieces created by the Jets Wives and Girlfriends will be available for purchase on the concourse through an in-game auction. Jets players will show their support by donning HFC ties as they arrive at Bell MTS Place, followed by special HFC jerseys which will be worn during the pre-game warm-up. Jets coaches and broadcasters will join them in wearing the HFC ties throughout the game.
Following the game, specially designed HFC goalie masks worn by Jets and Moose goaltenders, player worn HFC ties, game used and issued lavender-taped sticks, and warm-up worn and issued jerseys will be available for auction at Auctions.NHL.com from Nov. 28 through Dec. 8.
Limited edition HFC merchandise is available now at all five Winnipeg Jets Gear stores, with a portion of the proceeds going toward Hockey Fights Cancer.
More details regarding the Jets HFC campaign can be found at WinnipegJets.com/HFC.
All proceeds raised will be directed to CCMF to support pediatric clinical trials at CancerCare Manitoba. CCMF funds 50 percent of the cost of clinical trials for children and teens with cancer, making leading-edge treatments available and accessible locally. Manitoba continues to have one of the highest participation rates of pediatric trials in the country, due in large part to the significant donations the Foundation directs to this effort year after year. All funds raised by CCMF (including through the Jets' HFC campaign) stay in our province to benefit Manitoban pediatric cancer patients and their families. Visit cancercarefdn.mb.ca for more information.
For tickets to the Nov. 23 game, and your chance to join the fight by offering your support, visit WinnipegJets.com/TICKETS.
‹ Main News