Winnipeg Jets host second "Changing the Game" virtual panel as part of NHL's Gender Equality Month
By TN Staff | February 28, 2022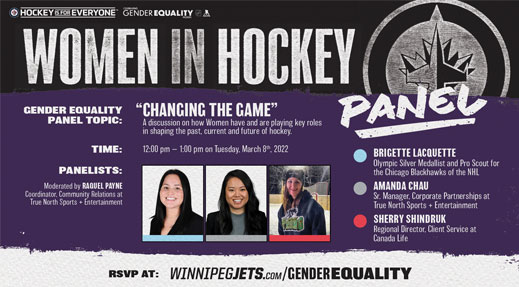 March is Gender Equality Month, and the Winnipeg Jets will highlight the stories of inspiring women from our community in the hockey and business industries through their second Women in Hockey "Changing the Game" virtual panel streaming on International Women's Day on March 8 at noon.
The panel will feature three women who are making impacts on the hockey community through their work in and around the sport, with insights into their personal experiences that have gotten them to where they are today. The panelists will include Brigette Lacquette, former Team Canada National Women's Hockey Team player and current Pro Scout with the Chicago Blackhawks; Amanda Chau, Senior Manager, Corporate Partnerships, True North Sports + Entertainment; and Sherry Shindruk, Regional Director, Client Service, Canada Life. The panel will be moderated by True North's Raquel Payne, Community Relations Coordinator. The "Changing the Game" panel is an event geared toward women, both those involved in or who aspire to be involved in sports, or who may be contributing in other sectors. The conversation will be informative, inspirational and encouraging to females regardless of their stage of education or career.
The virtual panel is free for all who wish to participate. Interested participants can register at WinnipegJets.com/GenderEquality where two registrants will have the chance to win one of either an autographed Winnipeg Jets or autographed Manitoba Moose jersey.
The Jets will cap the March 8 International Women's Day with their Gender Equality Night game, presented by Canada Life, against the Tampa Bay Lightning at 7 p.m. The game will further celebrate the women who make hockey happen every day, both within the Jets organization and across the broader hockey community.
As part of Gender Equality Month, the Manitoba Moose are also running a unique initiative to foster the next generation of women to impact hockey. The Moose Women in Sport Job Shadow Program will select up to six females over age 16 for a unique two-day experience on March 11 and 12 where they will learn about the many roles of the Moose front office, experience the behind the scenes of Moose game production from the press box on the team's Gender Equality Night, and much more. Applications for the Job Shadow Program continue to be accepted until March 2. Full details can be found at MooseHockey.com/COMMUNITY/WomenInSportJobShadowProgram.
Follow Jets social channels – @NHLJets on Twitter and Facebook and nhljets on Instagram – throughout Gender Equality Month for more content celebrating women in hockey and showcasing the success and opportunity available to females in the sport.
The NHL's Gender Equality Month is part of the larger Hockey is for Everyone initiative which works to drive positive social change and create safe, positive and inclusive environments for all involved in the game. Learn more at NHL.com/genderequality.
For more information on True North's Women in Hockey "Changing the Game" panel and the larger Gender Equality initiative, please visit WinnipegJets.com/GenderEquality.
‹ Main News