Winnipeg Jets redesign 10th anniversary logo to honour Dale Hawerchuk
By TNSE Staff | October 6, 2020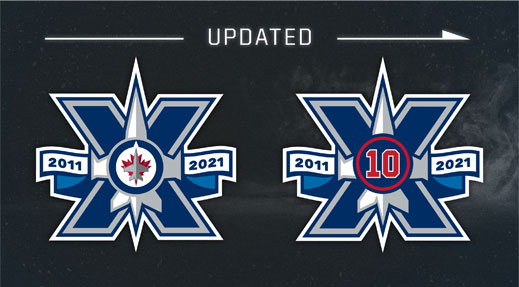 The number 10 is significant for the Winnipeg Jets leading into the 2020-21 season. It's the franchise's 10th season in Winnipeg since relocating from Atlanta.
The number 10 had plenty of significance for Jets fans long before now though, thanks to the late Winnipeg Jets legend Dale Hawerchuk.
To commemorate the 10th season, the Jets had already released a specialty logo earlier in the year in a letter to Season Seat Holders. That logo will carry even more meaning now, as it's been redesigned to include Hawerchuk's #10 at the centre – a perfect combination of honouring both the Jets 10th season in Winnipeg, and the legacy of Dale Hawerchuk, who passed away from cancer on Aug. 18.
"On top of what we were able to do to honour Dale after his passing, we wanted to find a way to honour him throughout the upcoming season," said Dorian Morphy, Vice President, Marketing for True North Sports + Entertainment. "With it being our 10th season back in Winnipeg and Dale wearing #10 while playing here, tying in his #10 to our 10th anniversary logo felt like a very fitting tribute."
The logo will adorn the Jets' jerseys this year as a commemorative patch and will also be featured on merchandise and wearables later this year.
"Dale meant so much to Winnipeggers and Manitobans," said True North's Executive Chairman Mark Chipman. "We're deeply saddened that he won't be here to celebrate our 10th season with us, but this redesigned 10th anniversary logo is a great reminder that the impact he had on our city and province will live on."
‹ Main News