Winnipeg Jets unveil special logo for South Asian Heritage Night presented by Canada Life
By Jason Friesen | January 16, 2023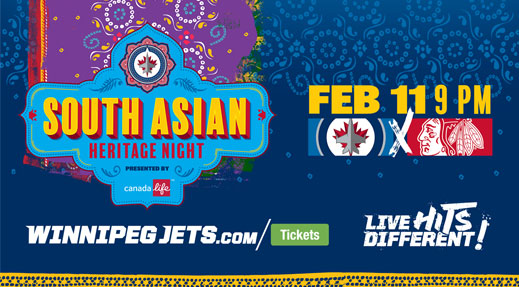 The Winnipeg Jets will celebrate their first South Asian Heritage Night presented by Canada Life on Saturday, Feb. 11 vs. the Chicago Blackhawks at 9 p.m.
South Asian Heritage Night is highlighted by the creation of a South Asian Jets logo. The Winnipeg Jets Creative Services team is proud to have collaborated with local Winnipeg graphic designer Charmi Sheth, who contributed her cultural and design expertise to the logo and textile designs, along with guidance from Waseem Shaikh, creative director at Ethnicity Matters, an agency specializing in leading engagement with cultural communities in meaningful, impactful ways. The South Asian Heritage Jets logo is inspired by some of the artistic traditions of South Asia. The form takes its inspiration from Rangoli, a traditional artform practiced during celebratory occasions and meant to bring happiness and good luck. Within the inside of the logo are motifs inspired by Henna patterning as well as Bandhani designs. The colourful background designs of the graphics feature patterns and motifs inspired by textiles throughout South Asia, including Phulkari, Bandhani, and Saree. These patterns and bold colours are inspired by the vibrancy and diversity of the many cultures of the region.
The Jets will wear warmup jerseys with the specialized logo at the Feb. 11 game. Following the game, those jerseys will be auctioned off in support of Punjabi Community Health Services Manitoba, which was established in August 2022 to support the health, social and settlement needs of South Asian communities, inclusive of mental health and addictions support. The auction opens Feb. 16 at 5 p.m. CT and runs until Feb. 26 at 8 p.m. CT at auctions.nhl.com/WinnipegJets.
Canada Life Centre will open at 7:30 p.m. for the game – half an hour earlier than normal for a Jets game – giving fans the opportunity to celebrate the South Asian community through food and cultural performances. Groups from the Winnipeg Punjabi Arts Academy will perform traditional Bhangra dancing and drumming prior to the game in the atrium from 7:30-8:30 p.m. as well as during both intermissions and throughout the night, while South Asian DJs will amp up the pre-game atmosphere.
Special South Asian cuisine will be available at various kiosks on the Canada Life Centre concourse, including vegetarian samosas with mint cucumber riata, butter chicken, saag paneer, beef vindaloo, chicken masala satay and tandoori chicken pizza. Fans can also purchase a pre-game South Asian ticket and pre-game sampler meal combo starting at $99 (plus fees and taxes) that will give them an upper bowl ticket for the game and access to a pre-game meal starting at 7:30 p.m. South Asian Heritage Night ticket and pre-game sampler meal combo tickets can be purchased HERE.
T-shirts and hoodies with the South Asian Jets logo will be available at Jets Gear and at TrueNorthShop.com the week of January 23, with a portion of proceeds going to Punjabi Community Health Services Manitoba.
In addition to the game being broadcast in English on Hockey Night in Canada on Sportsnet, fans watching from home can catch the game on Hockey Night in Canada: Punjabi Edition at 9 p.m. CT on OMNI Television.
Winnipeg is home to over 60,000 people whose heritage is tied to one of India, Pakistan, Sri Lanka or Bangladesh.
Tickets for South Asian Heritage Night presented by Canada Life are available at WinnipegJets.com/TICKETS.
‹ Main News