Winnipeg Whiteout Street Party Getting Bigger
By Krista Sinaisky | April 18, 2018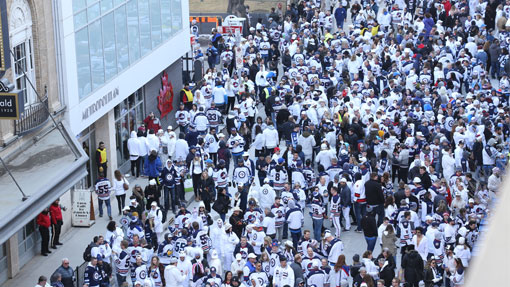 The next Winnipeg Whiteout Street Party will start this Friday at 4:30 p.m., and it will be the biggest event so far.
An additional television screen, expanded venue, and additional vendors and washrooms are all being incorporated into the April 20 event date. Increasing the capacity of the venue by over 50% will allow even more Winnipeggers to celebrate their hockey team and their city.
Additional entry and exit points will allow for greater site access and movement, including new entry points on Graham and Hargrave, as well as Graham and Smith. This is in addition to existing entry points at Portage and Donald, and St. Mary and Donald.
Street Party attendees are encouraged to use public transportation, taxi or ride-sharing services, carpool, or use active transportation to and from the game, letting everyone safely be part of the celebration.
To prepare for the Street Party, Donald Street will close between Portage and St. Mary at 10 a.m. on Friday, April 20, until 1 a.m. on Saturday, April 21.
For regular updates on City of Winnipeg lane closures and to view lane closures of major streets on an interactive map, please visit City of Winnipeg – Regional Lane Closures.
Download and use the Waze app for real-time traffic and incident updates as well as traffic re-route options.
Fans should note that the Donald Street entrance to and exit from the Millennium Library Parkade will not be accessible during the closure. Fans wishing to park in that parkade must use the Smith Street entrance and exit.
Fans taking transit to and from the games should note that Winnipeg Transit buses will be rerouted off of Graham Avenue from Carlton Street to Smith Street on Friday, April 20 beginning at 2:30 p.m. until the end of service. Bus Stops along Graham Avenue eastbound between Hargrave Street and Smith Street will be temporarily relocated to northbound Smith Street at Graham Avenue. Bus stops along westbound Graham Avenue between Smith Street and Edmonton Street will be temporarily relocated to St. Mary Avenue at Donald Street and to Edmonton Street mid-block between St. Mary and Graham Avenues.
For Transit re-route and schedule information, visit winnipegtransit.com or contact 311.
The loading zone of the Radisson Hotel on Portage, and in front of the Winnipeg Police Service Headquarters on Graham will be the designated accessibility drop off and pick up zones between 10:00 a.m. and midnight on April 20.
Fans with tickets for the game are welcome to take in the excitement of the Street Party before heading into Bell MTS Place, however, no re-entry remains in effect at Bell MTS Place. Fans will not be able to move between the venue and the Street Party.
For more information on the Winnipeg Whiteout Street Party, please visit Economic Development Winnipeg.
‹ Main News