WJHA 'Living Philanthropy' partnerships enrich students' lives
By Krista Sinaisky | January 19, 2018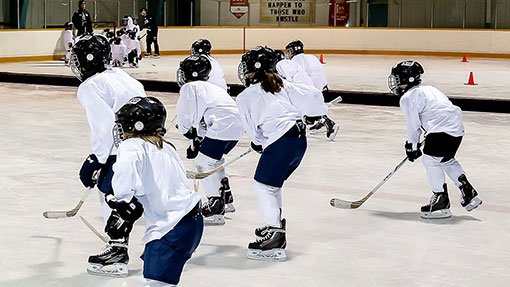 Local businesses and organizations have played an important role in the growth and development of the True North Youth Foundation (TNYF) since the 2010-11 hockey season, supporting the Winnipeg Jets Hockey Academy (WJHA) through its Living Philanthropy Program. The program includes adopting a class and running weekly on-ice sessions for the 25-week duration of the WJHA season. More than coaching hockey, this approach builds relationships and fosters connections, allowing organizations to grow with their classes and provide consistent support and mentorship through their years in the WJHA until high school graduation.
The WJHA is striving to expand program participation for the 2018-19 school year by recruiting new Living Philanthropy partners. Companies and organizations wishing to learn more about becoming part of the TNYF's Living Philanthropy Program can contact [email protected], or visit tnyf.ca/adoptaclass for more information.
To generate interest in the WJHA, the TNYF welcomes members of the media to see this dedication in action as one of the WJHA's first Living Philanthropy partners, Price Industries, runs one of its weekly sessions with its adopted WJHA class of Grades 6 and 7 students from Chief Peguis Junior High.
Who:
Murray Cobb, Director, Winnipeg Jets Hockey Academy
Gerry Price, CEO, Price Industries
Cale David, Volunteer Head Coach, Price Industries
Jordon Yvon-Moreau, Teacher, Chief Peguis Junior High
What:
On-ice WJHA session with students from Chief Peguis Junior High and volunteers from Price Industries
Where:
Gateway Recreation Centre, 1717 Gateway Road
When:
Monday, January 22, 2018
10:50 -11:45 a.m. on-ice session
10:50 a.m. interview availability will begin
Now in its 12th year, the Winnipeg Jets Hockey Academy is a play-based program designed to increase school attendance and high school graduation rates, and instill life skills through the game of hockey. The program is available to students in socially and economically challenged schools in Winnipeg, removing participation barriers by providing equipment, transportation, and nutritious lunches. Students begin the program in as early as Grade 2 and follow the 25 weeks of structured school-year programming through to Grade 12. Extras like tutoring, resume and interview support, post-secondary exposure, career counselling, and special field trips enrich the overall program and set students up for long-term success beyond high school and into adulthood.
The WJHA has upwards of a 90% retention and attendance rate which translates to school attendance. Participants' grades have been shown to steadily improve from year-to-year and on average, once in high school, WJHA students academically outperform their school population.
The 2017-18 school year will mark the first graduating class of students who have been through eight years of WJHA programming, beginning in 2010-11 as Grade 5 students in the WJHA predecessor the Lil' Moose program.
Price Industries was one of the first businesses in Manitoba to support the WJHA through volunteerism in 2010, leading to the creation of the program. Following their leadership, the TNYF is grateful to have nine organizations that have adopted classes through the Living Philanthropy Program, directly supporting more than 600 of the 750 students enrolled in the WJHA. These companies include Price Industries, Maple Leaf Construction, Birchwood Automotive Group, Skybridge, True North Sports + Entertainment, Princess Auto, Winnipeg Police Services, RCMP, and New Flyer.
"Our corporate and community partners who volunteer their time through our Living Philanthropy Program have been key to fostering the overall growth of the Winnipeg Jets Hockey Academy," said Dwayne Green, the TNYF's Executive Director. "The program is rewarding for WJHA students but also pays in dividends for participating organizations and their employees through meaningful interactions, shared triumphs, lasting memories, and a strengthened sense of team and community. We are immeasurably grateful to all of our Living Philanthropy partners for their participation and for allowing our students to thrive through the hockey academy."
‹ Main News