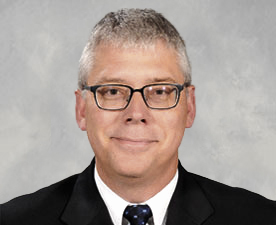 John Olfert
President & Chief Operating Officer
John Olfert has been with True North Sports + Entertainment since 2001, serving in a variety of capacities during the development and opening of Canada Life Centre (2004) and hockey for all centre (2010), acquisition of the Winnipeg Jets NHL franchise (2011), and overseeing the financial and administrative operations of True North's properties and teams. Olfert served as True North's Chief Financial Officer from 2002 until 2014, when he transitioned into the broader role of Chief Operating Officer. In this role Olfert oversaw the return of the Manitoba Moose AHL franchise to Winnipeg, True North's acquisition of the Burton Cummings Theatre (2014), as well as significant venue reinvestment projects at both the Burt and Canada Life Centre. Olfert was named President & Chief Operating Officer of True North Sports + Entertainment and the Winnipeg Jets in 2019.
Olfert is a graduate of the University of Winnipeg, where he played in the Wesmen Volleyball program, and has a FCPA, FCGA designation. Prior to joining True North, Olfert began his career in both not-for-profit and venture capital organizations. He has been an active member on the True North Youth Foundation board (and its predecessor Manitoba Moose Yearling Foundation), and has served Winnipeg's charitable and sports community in a variety of board, coaching and volunteer capacities.
Olfert and his wife Brenda are life-long Winnipeg residents, enjoying our community with their four children and their growing families.
« Kevin Cheveldayoff
Jim Ludlow »