True North welcomes healthcare workers to Winnipeg Jets Round 2 home games
By TNSE Staff | June 2, 2021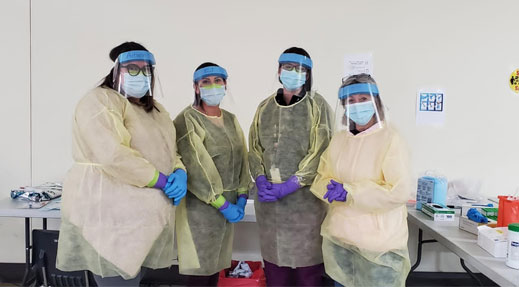 After more than a year since fans last graced the stands of Bell MTS Place, True North Sports + Entertainment is pleased to be able to welcome fully vaccinated (have received two COVID-19 vaccination shots) healthcare workers back to the stands to cheer on the Winnipeg Jets during Round 2 of the Stanley Cup Playoffs.
In full compliance with public health guidelines, this small gesture of appreciation is being offered to up to 500 healthcare workers who will be given the opportunity to win a ticket to one of the first two home games of the Stanley Cup Playoffs Round 2 matchup between the Winnipeg Jets and Montreal Canadiens, beginning for tonight's Game 1.
"Throughout the COVID-19 pandemic, healthcare workers have stepped forward in response to every ask, providing compassionate care to Manitobans during what has been a truly unprecedented healthcare event," said Lanette Siragusa, Chief Nursing Officer, Shared Health. "We know that we are not finished in our response to COVID-19 and that staff continue to put in enormous effort in the care of patients and the delivery of vaccines, however this opportunity offers hope for what our vaccinated future can look like. And it offers a small thanks for the dedication, sacrifice and care that our healthcare heroes have delivered each and every day."
More than 6,000 entries received for ticket lottery draw
Healthcare workers (physicians, nurses, allied health professionals and support staff) from across Manitoba have been selected by a random lottery. Eligible attendees must work in Manitoba's health system and will be required to show proof of their vaccination status and photo identification before entry. Facilitated by Shared Health, the lottery draw received more than 6,000 entries from fully vaccinated healthcare workers excited at the prospect of seeing playoff hockey in person.
The health, safety and comfort of all guests and employees has been paramount as True North has planned for the return of guests to Bell MTS Place over the past several months. All winning healthcare workers attending the game will receive detailed Know Before You Go information to help them enjoy their experience, safely.
"As Manitobans make their appointments to get vaccinated, we hope that the sight of fans back in the stands will offer some encouragement of what a return to a more normal life will look like. In the meantime, it is very encouraging to welcome even a small group of fans back to the next two Winnipeg Jets games at Bell MTS Place," said John Olfert, President & Chief Operating Officer, True North Sports + Entertainment. "We are excited to be able to provide this first fan opportunity as a show of gratitude to those within the healthcare sector who have provided so much support and care to our community throughout the pandemic. These fans will bring an energy to our team that has been greatly missed over the past 15 months."
In consultation with experts in infection prevention and control and drawing from best practices from within the sports and entertainment industry, new processes and protocols have been established to ensure a safe and enjoyable in-venue experience for both employees and our healthcare guests with a focus on enhanced cleaning and disinfecting, physical distancing and use of face masks.
True North is eager to welcome back all fans and sees this as a hopeful first step in being able to do so. We will continue to work with the Province to ensure the appropriate timing for the full or partial reopening of our venues, as well as to ensure compliance with evolving guidelines.
Bell MTS Place has recently achieved Global Biorisk Advisory Council (GBAC) STAR accreditation, representing a gold standard of facility readiness to prevent and manage outbreaks and pandemics through the presence of best practice preparation, response and recovery protocols. For more information on True North's GBAC accreditation, visit TNSE.com.
‹ Main News