TNSE's Economic Impact
By Rob Wozny | March 2, 2017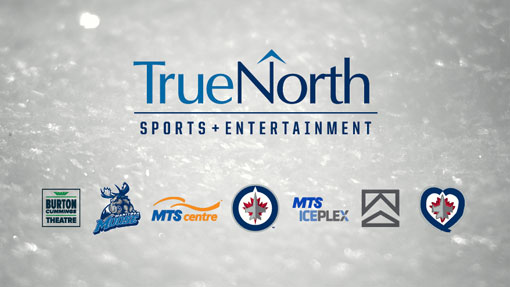 In front of an audience of employees, players, and corporate partners at True North Sports + Entertainment's annual corporate partner reception at the Royal Aviation Museum of Western Canada on Mar. 1, 2017, Executive Chairman and Governor, Mark Chipman shared a few summary points from a new KPMG report commissioned by True North to measure the annual economic impact of its operations in Manitoba. The study found that True North's activities:
•

Generated $210-million for the Manitoba economy based on its 2015/2016 fiscal year (using an industry standard input/output model that measures the impact of organizational expenditures on labour, goods and services inside Manitoba);

•

Generated $45-million in tax revenues contributed to the federal, provincial, and municipal governments;

•

Created and sustained 1,473 full-time equivalent (FTE) jobs in Manitoba.
Additionally, the Winnipeg Jets and Manitoba Moose, combined with activity at True North's venues including the MTS Centre, the MTS Iceplex, and the Burton Cummings Theatre, attracted over 135,000 out-of-province visitors. The guests to our province include visiting teams, fans, artists, promoters, and concert-goers. The KPMG report measured dimensions of True North's 2015/2016 economic impact including value added (GDP) or wealth generated in the economy, jobs, and government revenue.
Now in its 20th year in business, True North's economic impact assessment provides its stakeholders a measurement of the company's contribution to the Manitoba economy. "Growing an organization that contributes $210-million to the provincial economy could not have been done without the support of our employees, fans, corporate sponsors, public partners, and so many others in the community who have been with us every year," says Chipman. "As an organization, we are extremely grateful."
Related: True North announces major concourse renovations at the MTS Centre
True North Sports + Entertainment owns and operates the MTS Centre, Winnipeg Jets (NHL), Manitoba Moose (AHL), MTS Iceplex, and Burton Cummings Theatre. Additionally, True North is currently developing True North Square, a mixed-use development that will be located adjacent to MTS Centre. Committed to community development, True North proudly supports the True North Youth Foundation, the charitable arm of True North and the Winnipeg Jets.
For more information:
ROB WOZNY
Vice President, Communications and Community Engagement
True North Sports + Entertainment
P: 204.926.5804
E: rwozny@tnse.com
‹ Main News