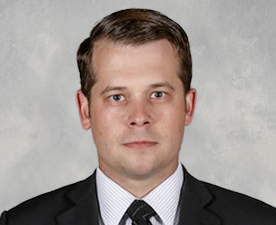 Brad Andrews
Sr. Director, Hockey & Business Operations, Manitoba Moose
Brad Andrews enters his sixth season with the Manitoba Moose. This is his third season as the Senior Director, Hockey & Business Operations after three seasons as Director, Hockey Operations and spending four seasons with the Winnipeg Jets' AHL affiliate in St. John's in the same role.
In this role, Andrews oversees day-to-day operations for Moose in regards to ticketing, marketing, communications, game production, community relations and hockey operations. Andrews also represents the Moose as an Alternate Governor on the AHL's Board of Governors and has served on the league's Competition Committee, CBA Committee, and Sales and Marketing Committee.
Prior to joining the IceCaps in 2011, Andrews, a native of Nova Scotia, previously worked with Reebok where he spent three years in their marketing department. He also spent time assisting the Washington Capitals hockey operations department with multiple salary arbitrations and interned with Comcast-Spectacor's legal department for two summers.
Andrews is a graduate of Western New England University Law School, where he received a concentration in Business Law and is presently a member of the Massachusetts bar. He also has a Bachelor of Commerce degree from Saint Mary's University. He resides in Winnipeg with his wife Melanie and their three children; Heidi, Jackson and Colton.
« David Sattler
Kelly Shouldice »