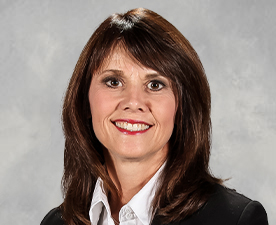 Norva Riddell
Sr. Vice President, Sales & Chief Revenue Officer
After 20 years of progressive sales and leadership roles with a major Canadian brewery, Norva Riddell joined True North Sports + Entertainment as Vice President of Sales in the summer of 2004. In 2008, Riddell's role changed to Sr. Vice President of Sales & Marketing as she continued to lead True North's sales, marketing, and community operations during the various phases of the organization's growth, including playing an integral role in the development and execution of the "Drive to 13,000" ticket campaign for the Winnipeg Jets. Riddell currently serves as Sr. Vice President of Sales & Chief Revenue Officer for True North, the Winnipeg Jets Hockey Club and its subsidiaries. In this capacity, Riddell is responsible for providing leadership in the areas of corporate partnerships, ticket sales and operations, and premium services.
Riddell was recognized for her significant accomplishments in sales and marketing for the Manitoba Moose with the American Hockey League's Ken McKenzie Award in 2008, and was a YMCA-YWCA Women of Distinction nominee in 2017.
A life-long Manitoban, Riddell serves as a board member of the True North Youth Foundation and remains actively involved in the community along with her husband, Robert Duncan.
« Kevin Donnelly
Lorna Daniels »